Long Island Wedding Caricature Artist NYC
♥
Here's a link to My Home Page for Info About Other Types of Parties I Do.
♥
---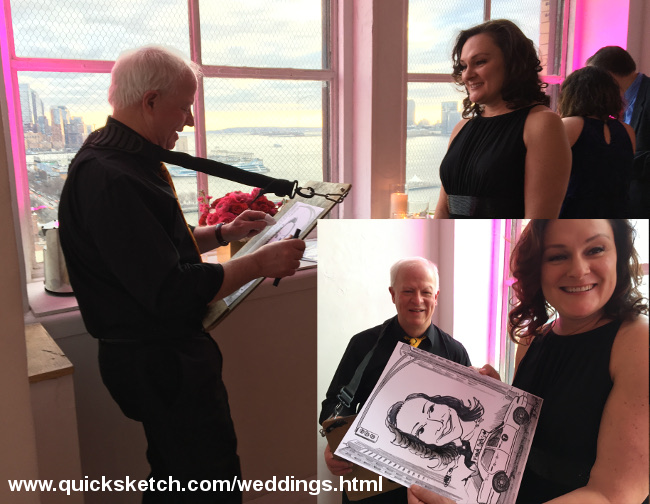 Occasionally I'll do walkaround or strolling caricatures during cocktail hours, but usually I'm sitting and people come to me. This NYC cab scene is one of my pre-drawn backgrounds. Sometimes people will call asking for a
Cartoon Portrait Sketch Artist for Weddings.
---
From an e-mail dated 10/28/21:
"I'm so excited you are free for my wedding, I would love to book you !! I actually found you on brides of Long Island your reviews are amazing on there I've never seen one bad review. The only thing the brides wished was that you were there longer so I want to book you for the 5 hours. This made my day!"
- Sincerely, Cathryn E.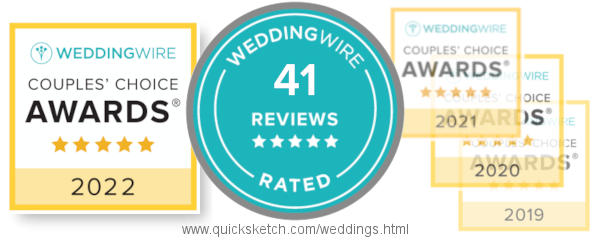 Click here to see my Wedding Caricature Artist Reviews on WeddingWire!


Call today (631) 942-5154 or
E-mail: Wedding Caricature Info
Caricatures At Weddings?
(Reasonably Priced Wedding Entertainment NY)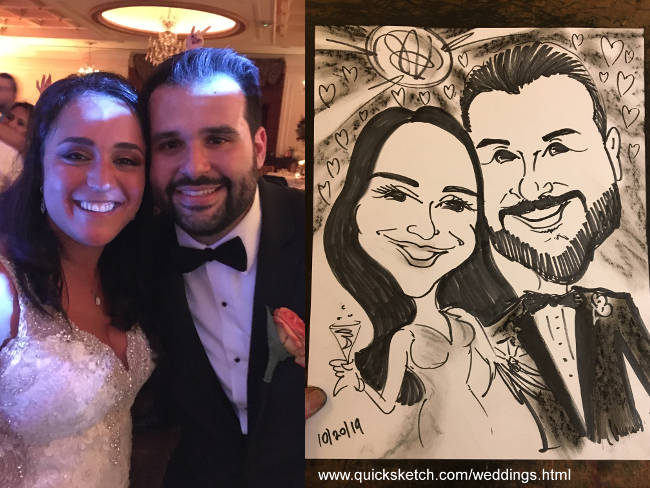 A caricature artist at a wedding? Yes!
Caricature artists for wedding receptions always entertain your guests. I try to get the Bride & Groom before the end, because that's when everyone is leaving and kissing them goodnight, which is very distracting. Since I get there early to setup,
what I've been doing lately is taking pictures of the bride and groom at the beginning of the wedding or even before it starts and working on it when I get a few moments so that it's done by the end
if they don't get a chance to sit for one (above and below photos).
This works best when I'm there for the five hours, so I can take advantage of the time when they are doing introductions and first dances.
---
For a strange story, about a situation that happened to me at a wedding (October 17, 2021) for the first time in over 40 years of doing caricatures! This link to my blog should take you right to the story (or scroll down to: 10/17/21).
---
At first you might think that having wedding caricature artists entertaining your guests during a wedding is a unique, quirky, unusual or alternative wedding entertainment ideas, but it has become mainstream over the past ten years.
Check out my Reviews on WeddingWire
or my
Facebook Wedding Page.
I do most weddings on my own, but I have other artists I can call if you feel you need more than one.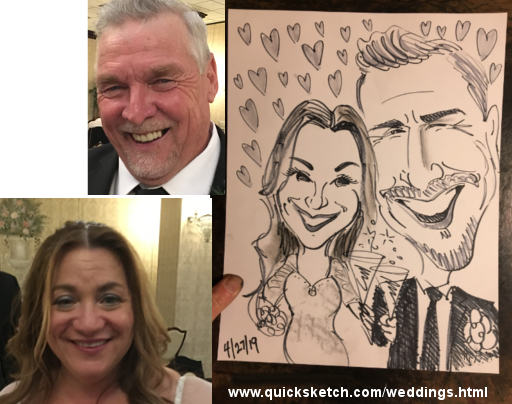 ---
This is from an e-mail I just received:
"I just saw a Rave Review on "Brides of Long Island" (on Facebook) and thought about HOW FUN it would be to have you at our wedding instead of a photo booth!" - Eileen
She's referring to a Review on a Private Facebook Group "Brides of Long Island" that I haven't seen, but have heard about. Written by a bride who's wedding I must've drawn caricatures at.
---

Ask about my five hour discount!
Call today (631) 942-5154 or E-mail: Wedding Caricature Info
(One of the best ways to entertain wedding guests just got better.)
---
I worked with this couple as they changed their dates multiple times throughout 2020-2021.
Note the crossed out dates in the lower left corner, they loved this touch when I gave this to the at the end of the wedding!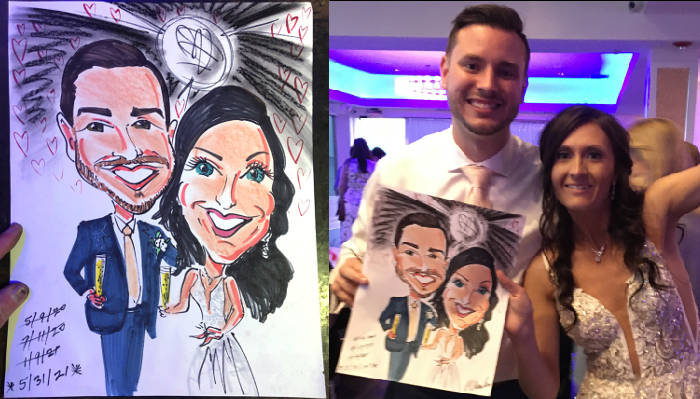 ---
Caricatures During COVID
(I have a daughter getting married in June of 2021, the date was planned before the pandemic and has never changed, but about 100 people had to be cut from their guest list. I know how stressful planning a wedding can be especially during COVID, but your event will be just as you imagined in spite of the pandemic.)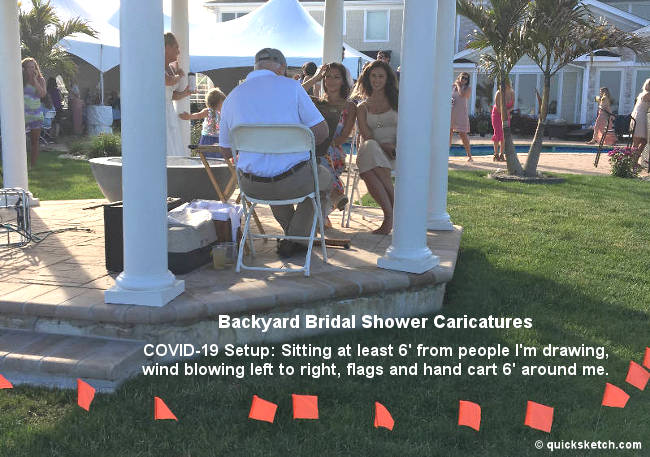 In June 2020 I started doing caricatures for the first time since mid-March when the COVID-19 Virus hit causing NY and Long Island to shut down. This backyard bridal shower booked for months before that, as it got closer, the bride-to-be called to let me know it was still on. I wanted to have some sort of barrier around me and got those little flags. I was wearing a mask when I walked in to get setup but took it off since I was the only one wearing one (I always keep it on while working indoor parties and weddings). I positioned myself so the wind was blowing left to right, not at anyone.
Now that the weather is changing and parties are moving indoors I get to catering halls and restaurants early to setup for social distancing…
---
"…I know it's a little last minute but I've been debating on trying to find something to fill some time because of the no dancing policy. We're only having 50 people so I think 3 hours will be plenty of time. Maybe to start after our first dance." - Melissa O.
•
~ From Some Recent E-mails Concerning COVID Restrictions and Caricatures at Weddings ~
•
"I'm getting married on 12-12-20 in a small ceremony / dinner since we had to postpone our big wedding this year. Since there is not allowed to be dancing I wanted to try and figure out some other sort of entertainment. I found your contact info in the BOLI group (Brides of Long Island group) on Facebook and you come highly recommended!" - Tamarah B.
---
Quick Sketch Caricature Artist to Draw at Weddings, Bridal Showers, Rehearsal Dinners, etc.
You'll probaby get my voicemail, please leave a message with some info about the date, time and place of your wedding, so I know it's' not a sales or robo call, thanks.
---
Unique Wedding Entertainment Ideas For Guests Long Island Caricatures NYC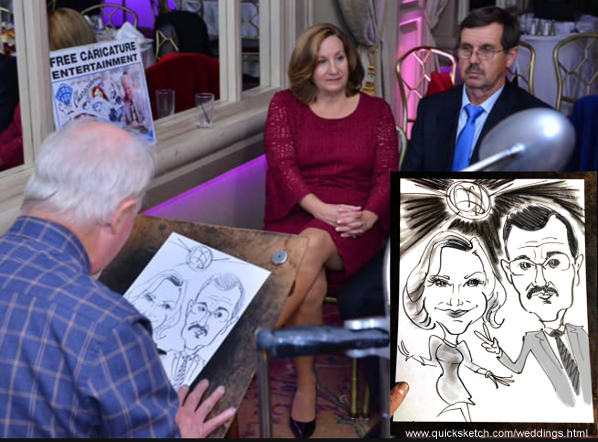 A view of my usual setup, I arrive early and find a place where people can watch over my shoulder. It's just as entertaining for those watching as for those being drawn, it even adds to their suspense.
Everything you want to know about Wedding Caricatures, your guests will love these!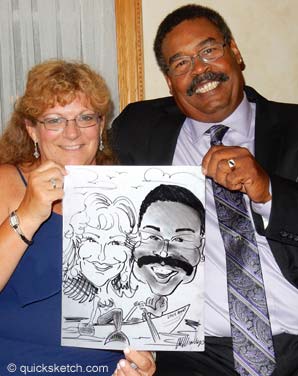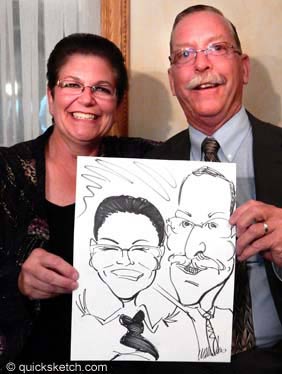 Every caricature artist has their own style, my caricature style is very complimentary looking much like the people, with just enough exaggeration whether in the cartoon bodies or the heads to be fun and not be insulting. Right when people sit and talk a little, I can easily tell who I can fool around with more or less. These caricatures were drawn during a fun wedding at the East Wind Caterers, Wading River, NY.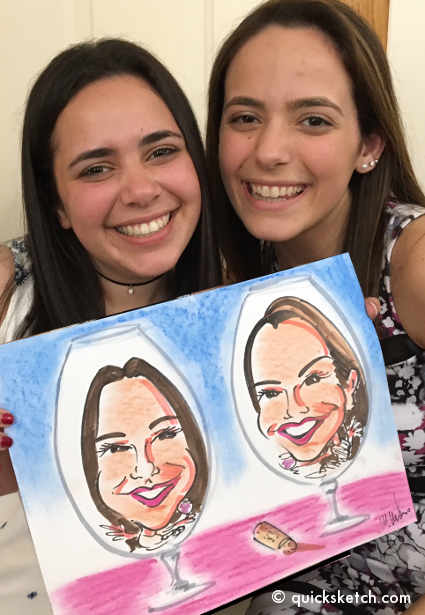 Always a fun "surprise" scene to draw when I get wine lovers. Actually, I do draw caricatures in color sometimes at large events like weddings, but usually they are in b&w because they go faster with larger crowds.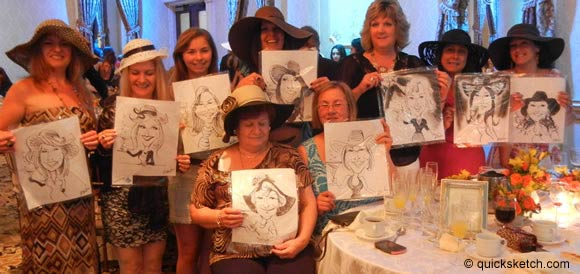 Some recent Bridal Shower Caricatures, word got around that I had a "slimming pen", it was a busy night.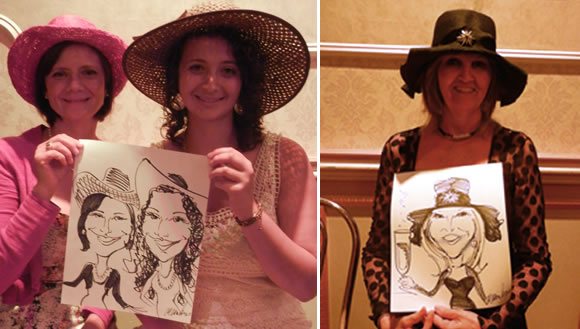 Caricature Pictures from Bridal Showers, Baby Showers, Rehearsal Dinners, Anniversary Parties, you name it.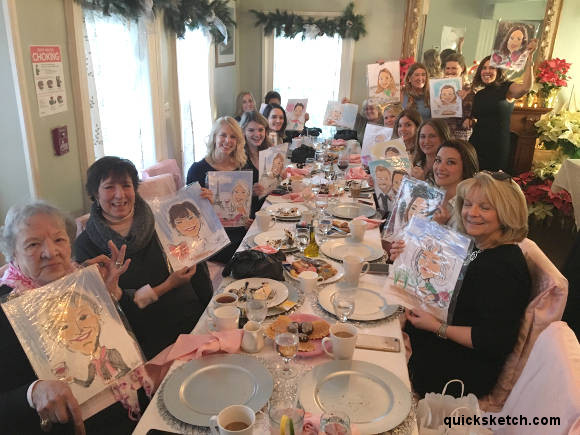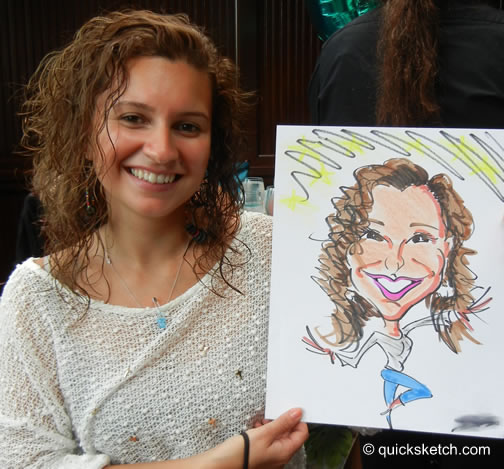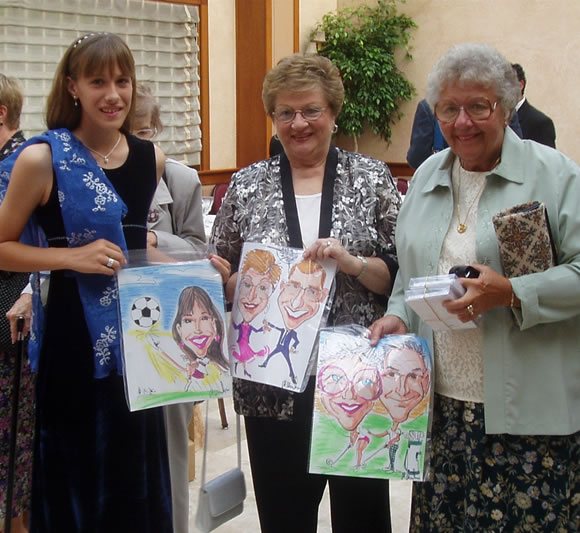 Some caricatures drawn during a 50th anniversary party. They're somewhere between portraits and cartoons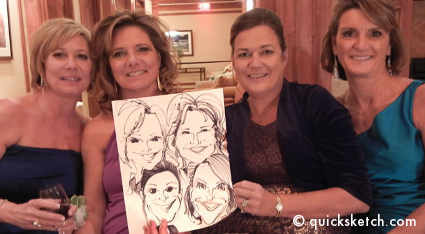 One of the woman in the group above suggested that I make up a new background; "You should make a scene with the woman doing the laundry, cooking, cleaning and the guy sitting with a beer and the remote." So I did and it's one of the pre-drawn backgrounds I take with me to parties that people can choose from.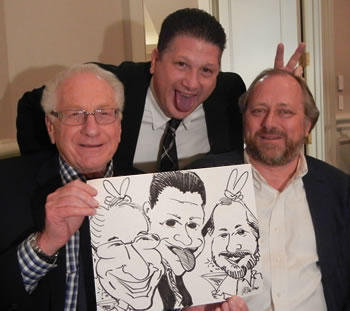 Lots of times I'll get groups of guys, groomsmen, brothers, frat brothers…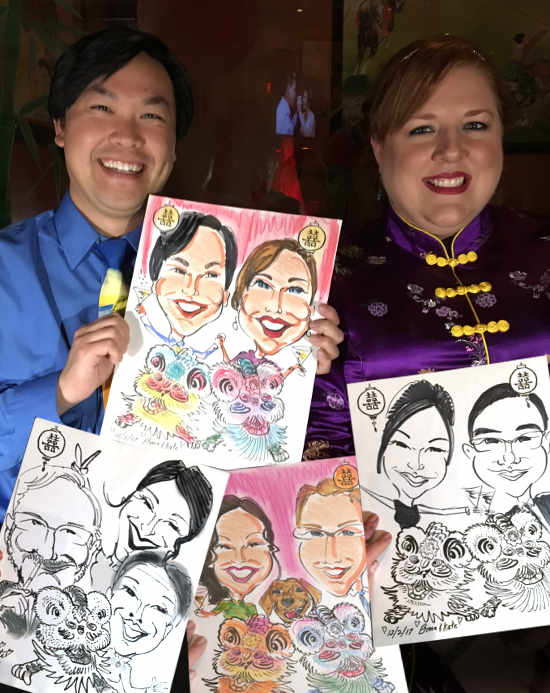 Here's a collection of caricatures from a Chinese-American Wedding in NJ. I made up 2 pre-printed backgrounds ahead of time with the single and double Chinese Lions, some text in the lower left corner and worked in the "double happiness" characters. I did color caricatures of the bridal party and b&w for the rest of the guests. Someone even asked me to put their dog into their caricature which happens sometimes.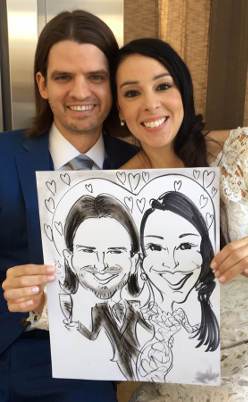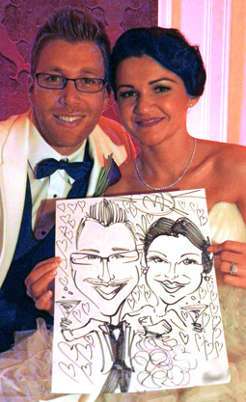 ---
"…My wife and I had been to so many weddings with photo booths and we wanted to shake it up and do something special. Marty's caricatures were the perfect photo booth alternative. Beyond being wildly talented, Marty is affordable, professional, an all around 10 out of 10…"
- James G.
To read his full review and others on TheKnot, click here!
---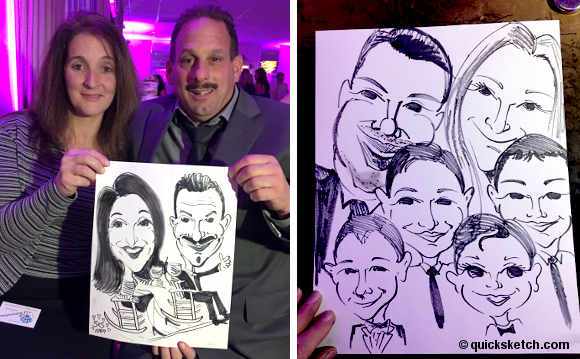 ---
"Hi Marty, I've used you several times over the years most recently for my daughter's pharmacy graduation party and before that, my son's wedding, he has four kids now! I'll be getting married again and would like you to make a rocking chair background for singles and couples to use at the wedding. Thank you for always being there for my family!"
Thank you!!!! Sharon G.
---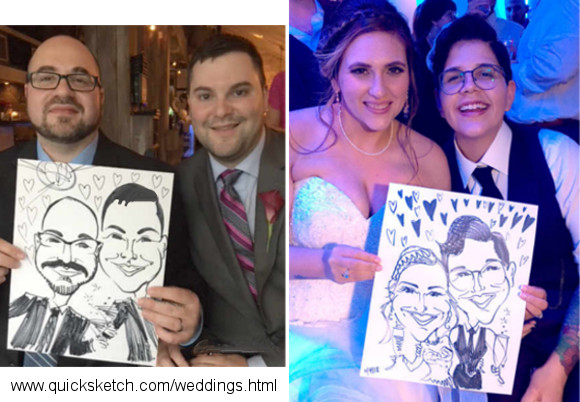 Above are some same sex wedding caricatures, two grooms and two brides. I was a "surpise gift" from the mother of one of the grooms. The quote below is an excerpt of The Knot review by one of the brides.
---
"…Our friends LOVED this option as a favor and keepsake from our wedding day. Marty was professional and kind. Our friends and family received the best caricature drawings with a hint of humor!…"
- Bee H.
---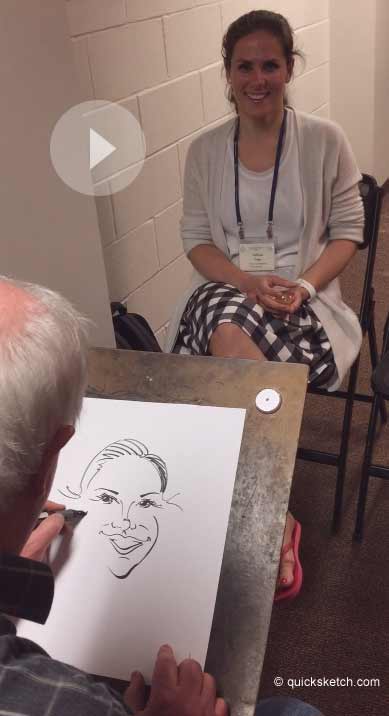 A guy sent me this over my shoulder view video he took of me
drawing a b&w caricature drawing in real time, about 2 minutes!
Here's a collection of quick Long Island wedding caricatures!

Above wedding caricatures from a wedding at Bridgeview Yacht Club, Island Park, NY.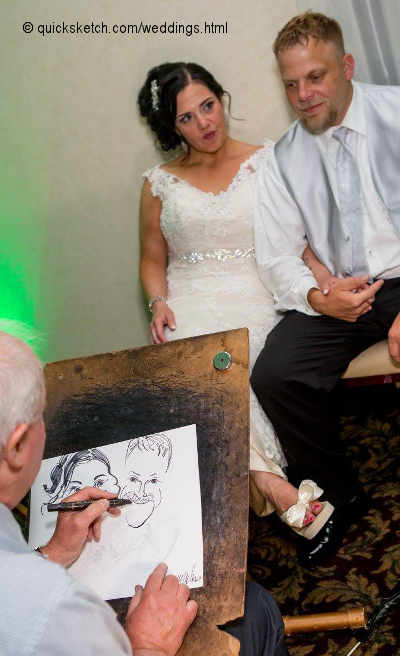 ---
"You were at my wedding on July 3rd at the Veranda at East Wind. I wanted to thank you and tell you how much everyone LOVED and RAVED about their caricatures that evening! You were a hit and so very much appreciated. Thank you so much for adding such a special touch to my wedding day. I'm so happy and appreciative that you were there!!!"
Thank you!!!! Lauren A.
---
NEW YORK - NEW JERSEY - CONNECTICUT - LONG ISLAND - WESTCHESTER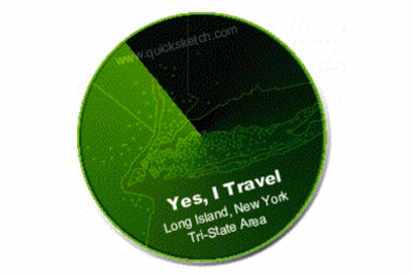 • Licensed & Insured •
Cocktail Hour & Wedding Reception Entertainment Long Island, NY
(Entertainment Insurance that some caterers ask for and an Artistic License of course :o)
See more samples and learn more about my work at "Caricature Talk" Humorous Cartoon / Caricature Blog
•
I also draw Caricatures from Photos
•
To My Caricature Home Page: www.quicksketch.com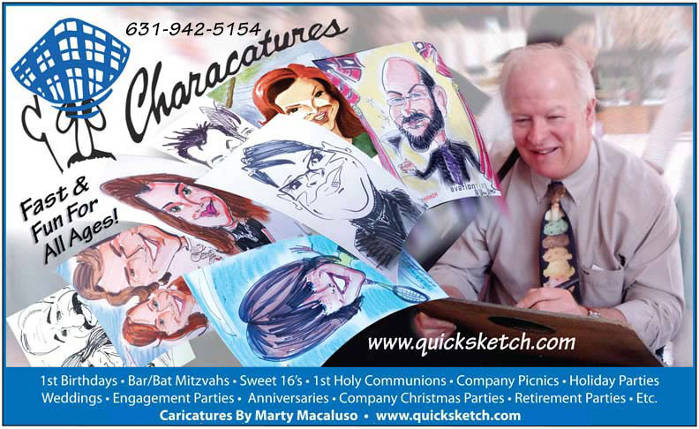 Feel free to download and print out my wedding caricature artist promo above.
---
My live caricatures can be called
Live Event Caricatures
But I also do Live Event Painting.
---


I also do Live Event Painting for Weddings, which is also entertaining for your guests, click here for more on these.
---
Live Sketch Artist For Wedding Receptions Long Island
- Alternatives to Photo Booths at Weddings -
Your Guests will Frame and Display their Caricatures
- Local Caricature Artist for Hire -
Different Ideas to do at Weddings
- Custom Cartoon Portraits -
Fun Entertainment Ideas for Bridal Party, Engagement Party, Bridal Shower Guests!
Unique NYC Wedding Entertainment Ideas Caricature Artist for Weddings near Nassau Suffolk Brooklyn Queens Bronx Westchester Long Island Wedding Entertainment Staten Island NY Wedding Caricature Artists NY NJ Wedding Caricaturist CT