Artist For Live Event Painting
Long Island, New York, New Jersey, Connecticut, Westchester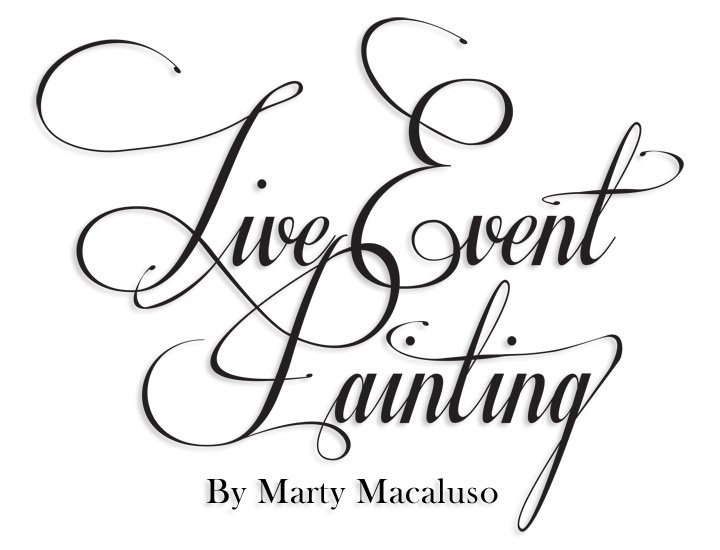 Weddings, Anniversaries, Sweet 16's, 1st Birthdays
Licensed & Insured
Call For Pricing & Availability!
(631) 942-5154
or e-mail: martyart@optonline.net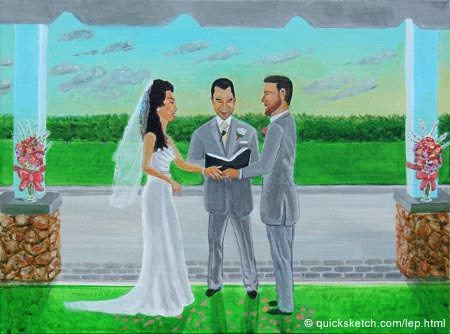 I wasn't at the above wedding, my daughter was in the bridal party and this was her gift to the bride
and groom. This was a tricky one, I pieced together more reference photos than usual, the sun was directly
behind them causing the sky to be white and their head outlines were heavily vignetted and blurred.
Size: 16" x 12". Below is a screen shot my daughter sent me from the bride...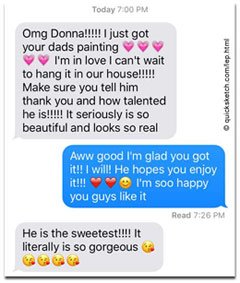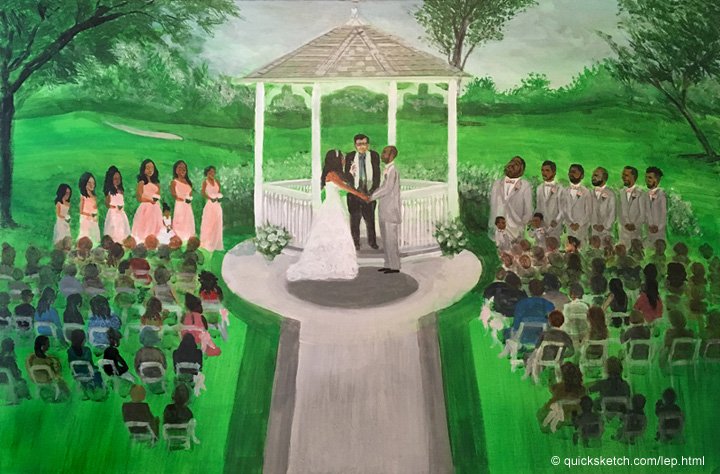 The above is from a wedding ceremony on a golf course on an otherwise gloomy morning,
I made the ceremony the bright spot. Size: 36" x 24".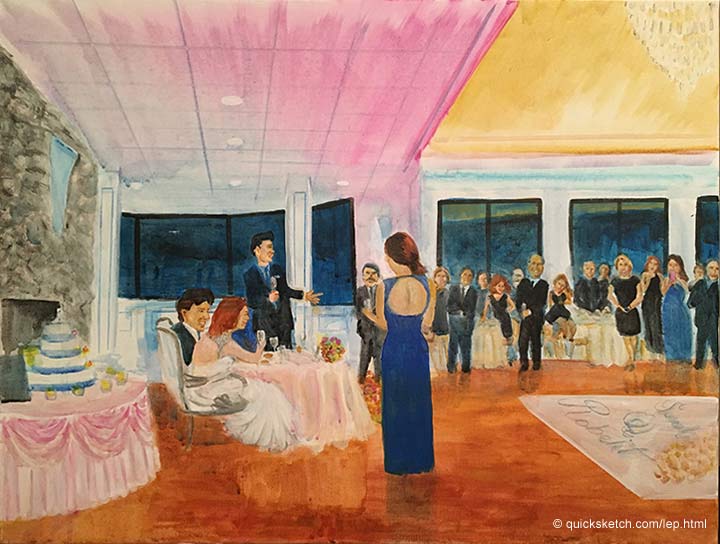 During the Best Man's speech. Size: 24" x 18".
Here's a quick run through of how this works. We can meet ahead of time, this can be at the venue, to discuss
the scene you want depicted, where I'll be situated, who you want featured and any other details. The day of the event
I'll arrive early to start painting the background whether it's an indoor or outdoor scene. We can possibly "stage"
a part of the scene ahead of time (bride and groom walking back up the aisle after they're married, cake cutting, etc.)
and I'll take some photos, since when that moment comes it will pass by in an instant and the photographers
usually get the right of way. This painting is as much entertainment for your guests as it is a keepsake,
if I'm not finished during the event, I'll take it home, finish it and deliver it when it's done.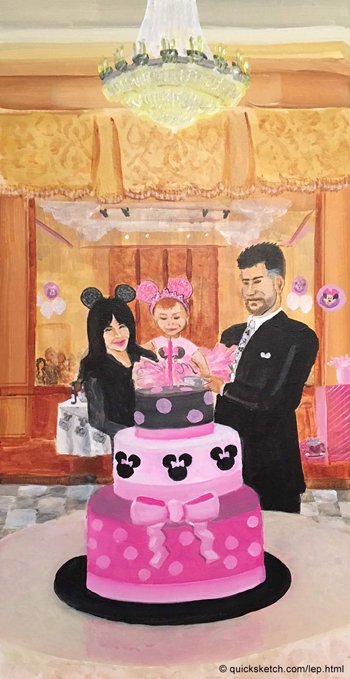 The cake cutting during a 1st Birthday party. Size: 12" x 24".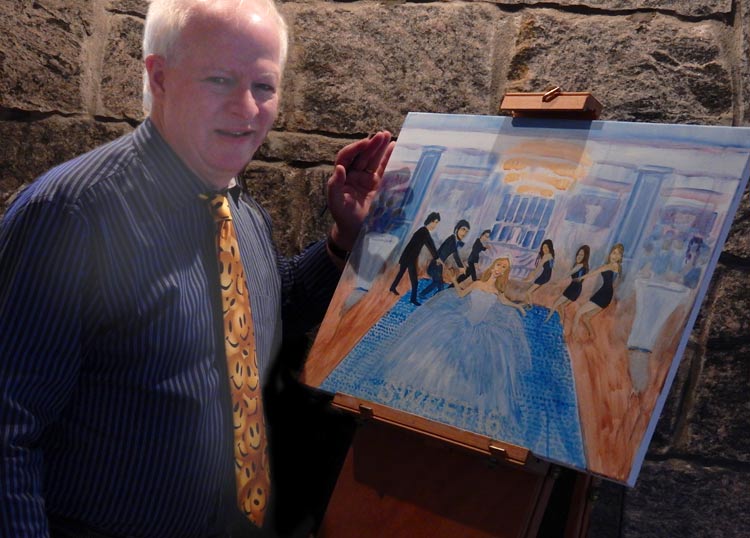 An in-progress painting from a Sweet 16 party.
A little bit about me...
My name is Marty Macaluso, I've been a graphic designer and party caricature artist since 1978. I do caricatures
at many weddings each year (feel free to peruse my website) so I'm familiar with weddings and 'catching' people,
they're expressions, personality and body language. My style is fairly realistic, adding the little bodies make them look
more like caricatures. As with caricatures, much can pass for live event painting, from realistic styles to cartoony styles,
while doing caricatures I constantly overhear people saying "his picures really look like the people".

In 2011, I had a bride-to-be call me asking if I could do a painting of her ceremony during the first hour
and caricatures for the rest of the reception (see the photo montage below). I agreed and did the picture
using watercolors and markers, that hour flew by, the painting went quickly, though it was very loose,
they loved it! I now know that watercolors are not the way to go with these.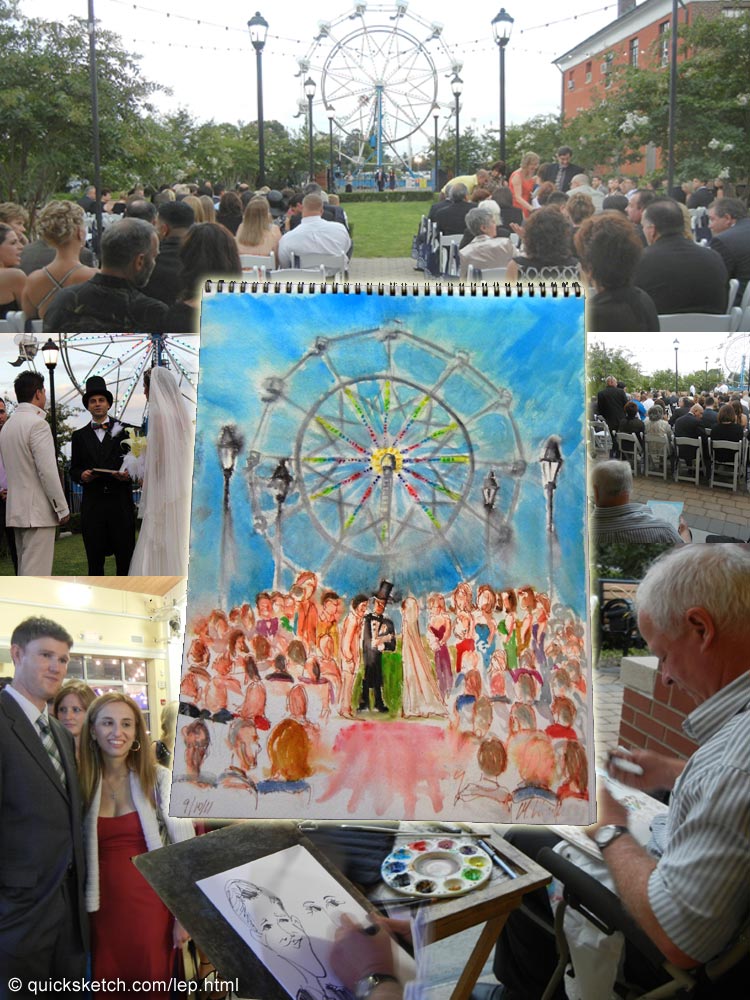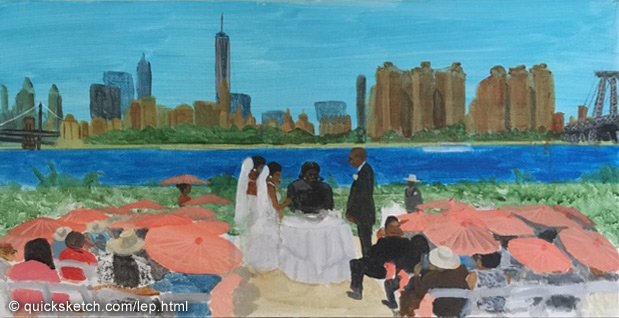 Here's my latest in-progress painting, no this is not a Mormon wedding taking place in NYC,
it's in-progress. I decided to move the bride closer and didn't paint out the other bride yet
(that's one of the things you can't do with watercolors). Size: 24" x 12".

Call For Pricing & Availability!
(631) 942-5154
or e-mail: martyart@optonline.net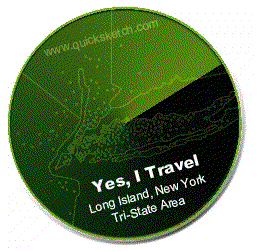 I'm based on Long Island, but travel around the Metro New York area and beyond.



A very affordable, fun alternative to live event painting.
"...most of the pictures are on my phone, your caricature is actually hanging on the wall!"
I also do caricatures at weddings, you can check them out here.