If you get my voicemail, please leave a message with some info about the date, time and place of your party, so I know it wasn't a robo call, thanks.
Call or contact me Email: Marty Macaluso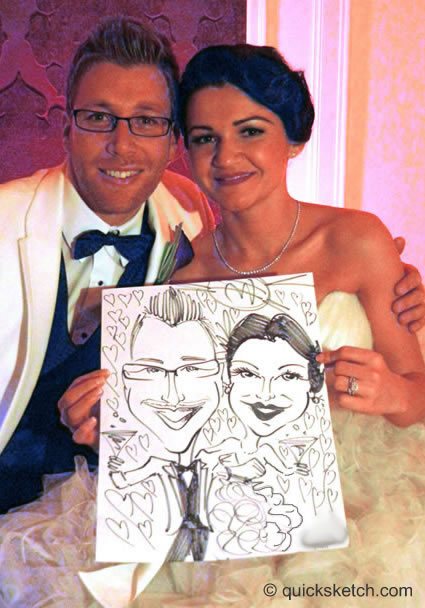 Fast Fun Quick Sketch Artist Long Island Wedding Caricaturist NYC NJ CT
If you're wondering how much does it
cost for a caricature artist call or email me.
---
I give a five hour discount!

---
(One of the best ways to entertain your wedding guests just got better.)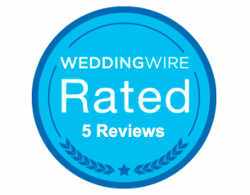 Here's a Collection of Caricatures Drawn
during a Long Island Wedding Reception

Caricatures are a unique wedding entertainment idea, the idea of having a caricaturist entertaining during a wedding reception has become less unusual or unconventional and more the mainstream over the years!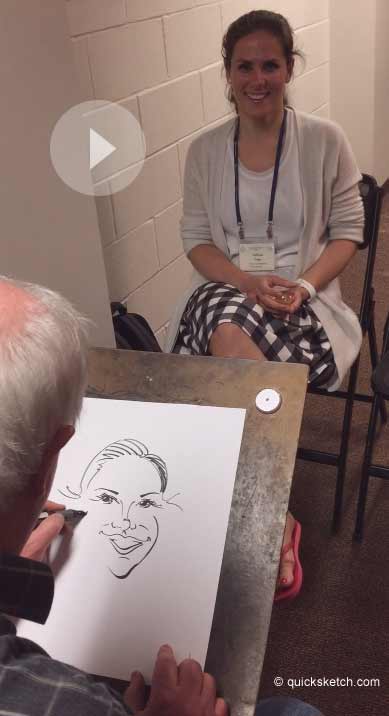 Here's an over-my-shoulder video someone took of me drawing this caricature from start to finish in real time!
Unique Wedding and Bridal Shower Entertainment Ideas, Engagement Party, Rehearsal Dinner and Anniversary Parties. Caricature artists NY Wedding Reception Entertainment.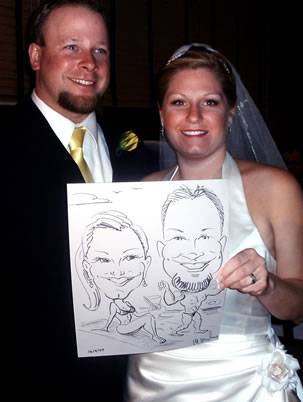 Caricature artists for cocktail hours & wedding receptions always draw a crowd but the Bride & Groom go to the front of the line whenever they're ready.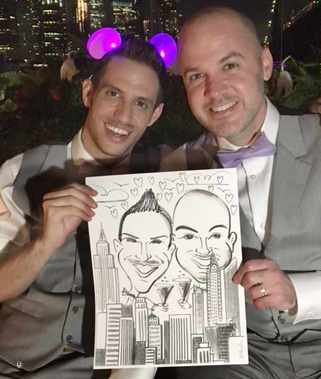 Two grooms, I got to use my pre-print NYC skyline background with the actual skyline in the background, at the River Cafe, practically under the Brooklyn Bridge in Brooklyn.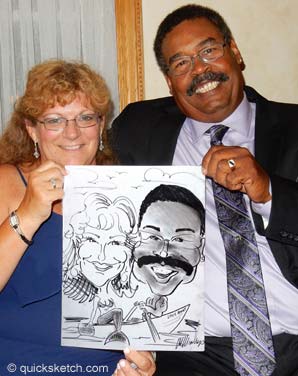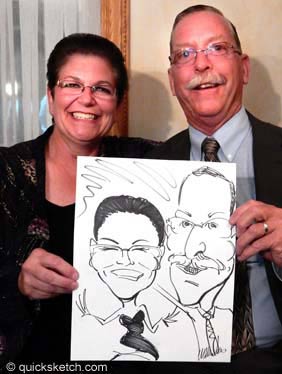 Every caricature artist has their own style, my caricature style looks very much like the people, with just enough exaggeration weather in the bodies or the faces to be fun and not be insulting. Right when people sit and talk a little, I can easily tell who I can fool around with more. I drew the above caricatures during a wedding reception at the East Wind Caterers Wading River.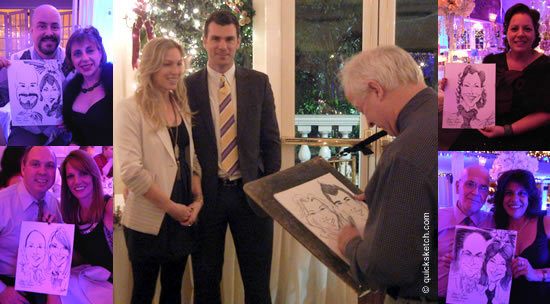 That's me doing walkaround or strolling caricatures at the Milleridge Cottage, during both the cocktail hour and the reception. Usually I'll be set-up somewhere and people will come to me, but this is fun too.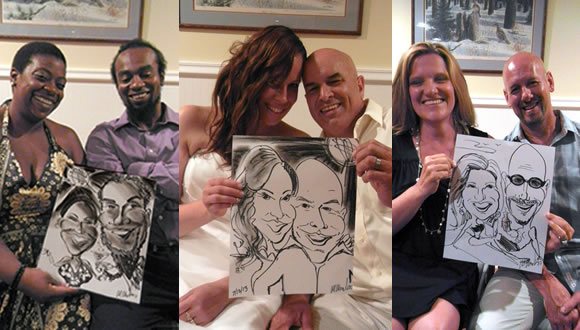 A few pictures taken during a small beach wedding in the Hamptons, that's the bride & groom in the middle.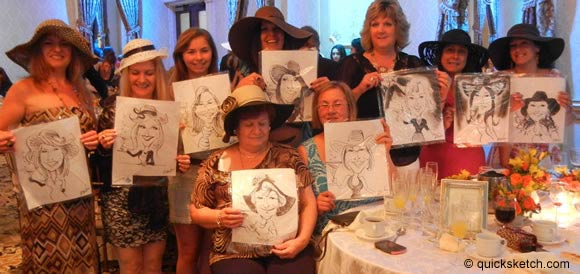 Bridal Shower Caricatures, word got around that I had a "slimming pen", I was busy. This was in the Bronx at the Villa Barone Manor, but I felt like it was down south with almost everyone wearing the big floppy hats.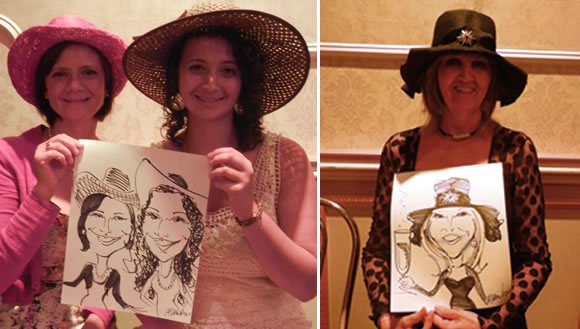 Caricature artists for engagement parties and rehearsal dinners are also very entertaining. Sometimes I'm booked by a guest, as their gift which is always a nice surprise.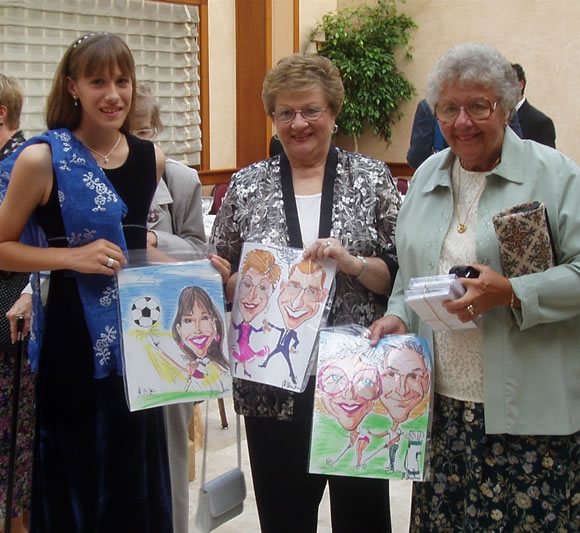 Some caricatures done during a 50th anniversary party. My style of caricatures lends itself well to adult parties like engagement parties, weddings & anniversaries. Usually I'm booked by the bride, or her mother, every once in a while I'll be hired by someone, ususally a afamily member as their gift, meaning I'll be a surprise.
* * * * * * * * * * * * * * * * * * * * * * * * * * * * *
- Something Different -
Live Event Painting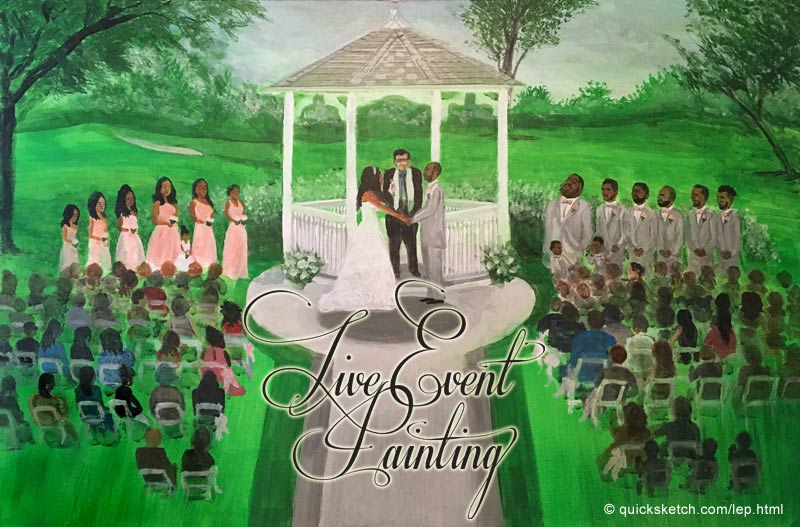 I also do Live Event Painting for Weddings, which is also entertaining for your guests. These can be done afterwards from photos also, click here for more on these.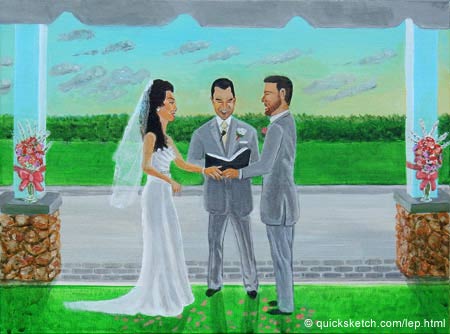 * * * * * * * * * * * * * * * * * * * * * * * * * * * * *
- Back to the Live Wedding Caricatures -

Wedding caricature artists are reasonably priced entertainment, for both large weddings or small backyard weddings. Caricatures are a different type of wedding entertainment. I serve Long Island, Metro New York, northern New Jersey & southwestern Connecticut.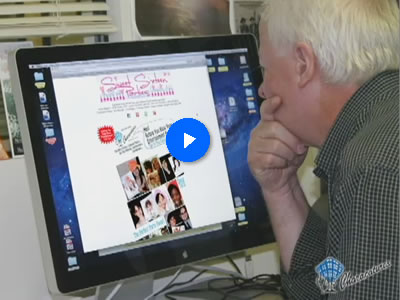 Here's a quick video showing a woman's reaction when seeing her caricature!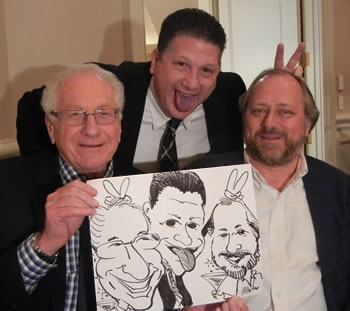 A Caricature Artist at a Wedding Reception?
Sure, why not . . . Caricatures go over very well at 30th and 40th surprise parties, anniversaries and rehearsal dinners, so why not weddings? Usually while doing a bar mitzvah I'm constantly approached by adults asking if they can get one done. There's always that percentage of people that would love something else to do than dance. Usually I sit down and people come to me, but sometimes I'll walk around to tables to do them.
Guests at a wedding never expect to see a caricaturist there, once they realize I'm there, I'm busy. About the only hurdle is that the caricatures shouldn't be thought of as "the favor" that everyone gets, they are more of a added attraction, not everyone wants to get one. Sometimes a wife will drag over her husband, or I getgroups of men or women. One of the woman in this group below suggested that I make up a new background; "You should make a scene with the woman doing the laundry, cooking, cleaning and the guy sitting with a beer and the remote." So I did and it's one of the pre-drawn backgrounds I take with me to parties that people can choose from if they want.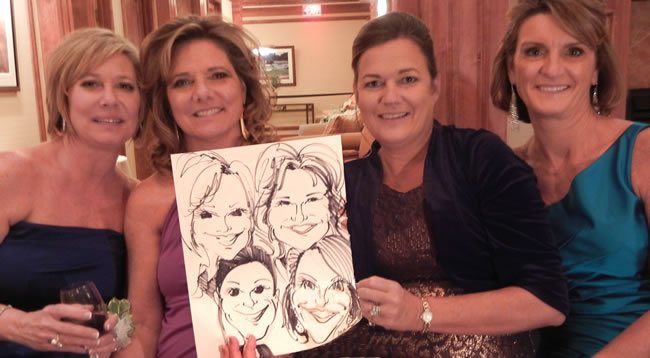 The only people that seem to get a little nervous are the maitre-di's. Some aren't too used to this yet, Once one even insisted that I "Take a break" because too many people were (enjoying) hanging around me. He had me set-up outside the room because it was too tight inside and wanted them to go in and dance, but they just waited around for me to come back.

Some tips to consider about hiring a wedding caricature artist:
• That the artist is in the same room as your guests. (I've been left in the lobby, or the adjoining room where the cocktail hour was.)
• Try to have the artist show you some "actual live samples", not "celebrity samples" or "studio samples". Just to make sure that the pictures will resemble your guests and that they aren't too exaggerated or ugly. I tell people that most of my exaggeration is in the bodies, but the pictures are very complimentary. My style of caricatures lends itself well to weddings and invitations.
• The minimum amount of time an artist will work. Usually about two or three hours. You can't expect someone to come for just the cocktail hour, also that your getting the artist your talking to.
• These can usually be done in black and white or color, the color is nicer looking, but the b&w go faster, sometimes I'll do the people in the bridal party in color and invited guests in b&w
• They supply clear plastic bags to protect the finished pictures, from the weather and spills.
• Any extra charges -sometimes travel expenses (tolls, parking)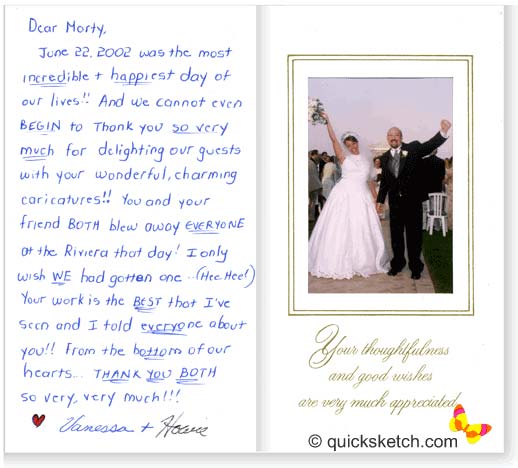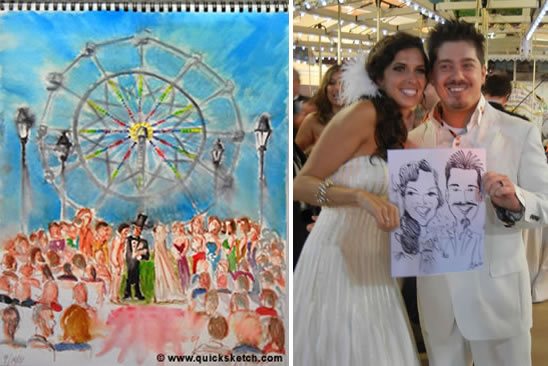 This is from the first time I did a quick live watercolor painting (also known as live event painting) for a wedding reception at Nunley's Carousel near the Cradle of Aviation Museum on Museum Row in Garden City, NY Then I did walkaround caricatures for the rest of the night.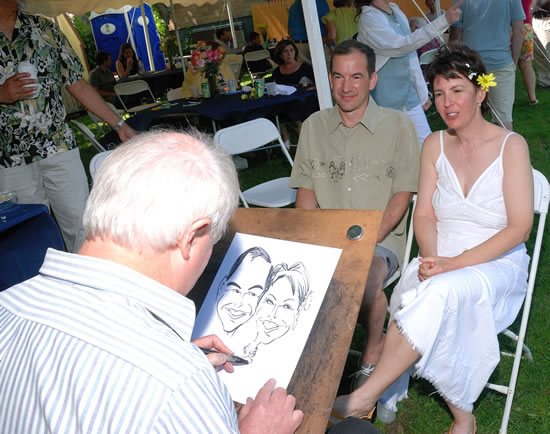 Here's a scene from a very low-keyed backyard wedding I recently did near Riverhead Long Island.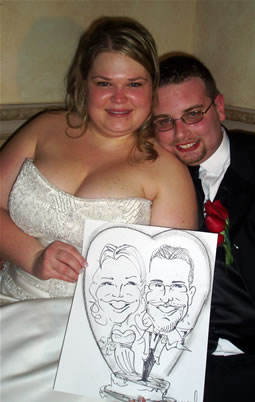 Black & White caricatures again during a busy wedding at Harbor Club at Prime, Huntington, NY.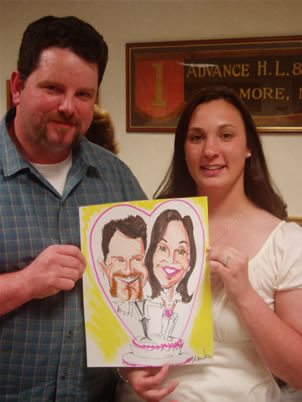 Every now and then while doing a birthday party a couple will say they are getting married soon and ask if I can do some sort of a bride & groom picture of them.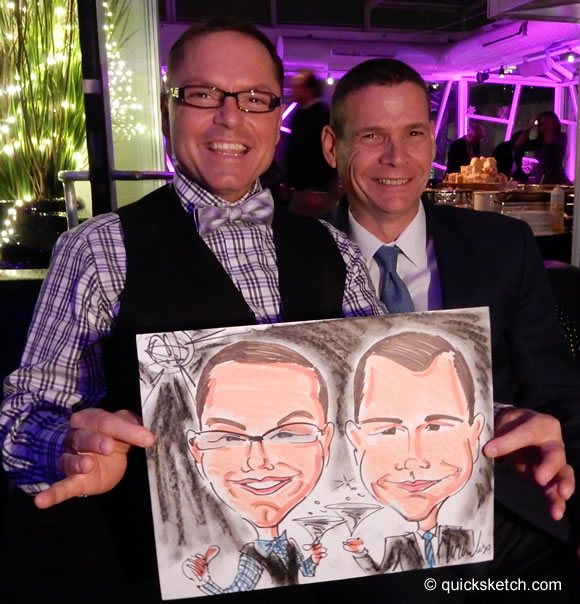 Caricatures from a NYC wedding at the Copacabana.
Your Never too Young or too Old to Party!
Engagement Parties · Bridal Showers · Rehearsal Dinners · Weddings · Baby Showers · Baptisms · Christenings · Communions · Confirmations · Bar Mitzvahs · Bat Mitzvahs · Graduations · Retirements · First Birthdays · Tenth Birthday · Sweet 16's · Surprise 30th · Surprise 40th · Surprise 50th
Caricature Artists Bring out the Kid in Everyone!

Pricing & Availability!
(631) 942-5154

e-mail: martyart@optonline.net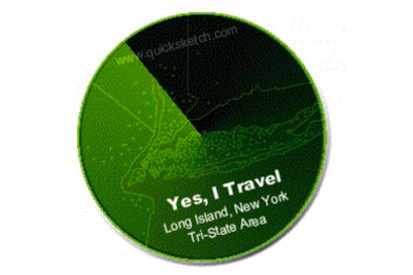 Licensed & Insured
(Entertainment Insurance that some caterers ask for
and an Artistic License :o)
Marty Macaluso Caricaturist for Long Island Wedding Caricatures NY, NJ & CT
Premiere Wedding Entertainment Long Island
from NYC to Montauk.

See more samples and learn
more about my work at
"Caricature Talk" A Humorous
Cartoon / Caricature Blog

To My Caricature Home Page:
www.quicksketch.com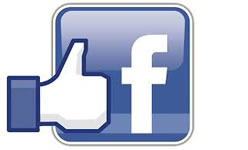 Check out my Facebook Wedding page, Like or Post something to it.
Local Caricature Artists Unique Wedding Reception Entertainment NYC