List of the top 10 caricature questions
I get asked while drawing at parties.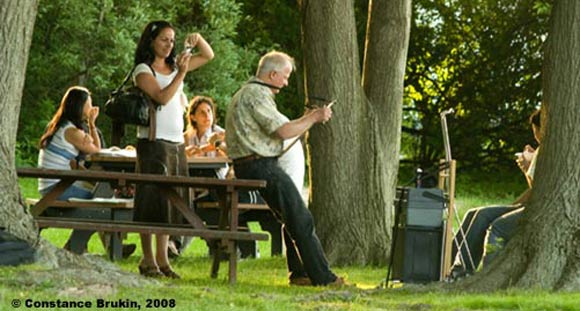 10. Do you do private parties?
Of course, this is kind of a funny question, the answer is always yes. I could be drawing at an office party and someone will ask if I draw at birthday parties or vice-versa. Usually I'll be drawing at a first birthday, when I'm done with the kids and the adults start coming over someone will ask if I do adult parties or just kids parties. The adults can't wait to get done and usually act like bigger kids than the kids do.
---
9. Do you travel?
This is usually the next question, the answer to this is generally yes, within the Tri-state Metro NY area. Although it's kind of funny to me when I ask to where and they tell me something like another town within an hour away, or less.
---
8. Did you get to eat?
Usually when I going to draw caricatures at a two or three hour party I don't expect to eat at the party, I'll have something before or after. Sometimes at longer parties when no one is coming over to me because they're all eating, I'll grab something quick at a buffet or the host will tell me make sure you get something. The funny thing is that if I'm booked for a five hour wedding or bar mitzvah (I think they have to give a dinner to the photographers, dj, etc.) I'll usually be drawing and get a tap on my shoulder by a waitress asking what I'd like for dinner, she'll give me the options and I'll pick something. About half the time they never come back to tell me when it's out or where it is, even though I ask them to let me know because I'm usually still drawing people. The times I do get to sit and eat, I'm always in a rush to eat and get back to the drawings.
---
7. Do you do caricatures full time, is it a hobby?
No, caricatures are pretty much a weekend thing for me, my fun weekend job that I've been doing since 1978. I work full-time during the week as a graphic designer, so I look foward to the weekends, having fun with people.
---
6. Less chin, more hair, can you make me look younger and thinner?
This question speaks for itself, generally you can fool around exaggerating with guys faces more, but with women you draw them the way they look, but give them nice bodies. Actually most of my exaggeration is drawing womens bodies and they love it. During the Bridal shower pictured below, I've had women come over saying "I heard you have a slimming pen".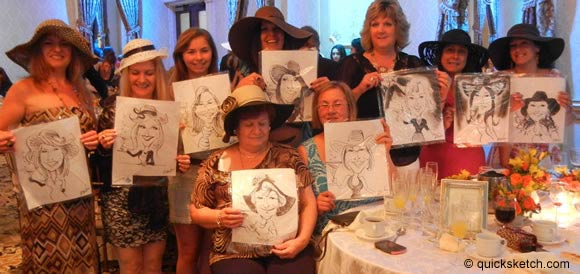 ---
5. Do you give lessons, are you an art teacher?
No, I work full-time as an artist and do these party caricatures on weekends, sometimes from photos on weeknights, maybe when I'm not working full-time anymore, but I just don't have the time right now. But if that changes I'll let you know. Actually I've done a few kids parties where there weren't many kids, so after drawing caricatures of them, I've given them some cartooning tips and tricks to fill in the rest of the time.
---
4. Do you pick out one feature to caricature or exaggerate on?
Not really, I see peoples overall head shapes, especially if there are two sitting together and then start drawing from the middle of the face out. The quick up and down glances are like putting pieces of a puzzle together. Catching the eyes are important to me, some caricature artists tend to exaggerate on the noses and teeth. I feel people don't want to be insulted at a party and draw them in a more complimentary style.
---
3. How long have you been drawing caricatures for?
That could have two answers, the real one, almost 40 years and the joking around one where I look at my watch to see what time it is compared to when the party started. The answer could then be anywhere from ten minutes to a few hours.
---
2. Can you do one more?
That's usually a trick question, it always comes at the end of the night when your tired and coming out of your zone, like when you've run long race and nearing the finish line but it keeps moving further away. The tricky part is that one person will ask it, but they are meaning for a couple or their family, usually 2 or more people on one page = one drawing (wishful thinking, but it does happen sometimes).

"Ok, one more and I have to get going.
Hey, what just happened?"
---
1. Does your hand hurt?
For people watching it must look like it, the wrist and have are constantly moving, but suprisingly no. over the course of a few hours my back gets tired and I'll start standing between people leaving the "hot seat" and a new person getting into the hot seat. It's funny on days when I have two or three parties at the end of the night I'll get in my car to drive home and wonder why is the rear view mirror set so high?
---
Here's a Bonus, the first caricature questions most people ask;
What are your rates, how much do you charge, by the person or the hour and how many caricatures can you draw per hour?
I charge by the hour, but you'll have to call or e-mail me to get the other answers ;o)


(631) 942-5154



If you get my voicemail, please leave a message with some info like the date, time and place of your party, so I know it wasn't a robo call, thanks.
E-Mail:
Marty Macaluso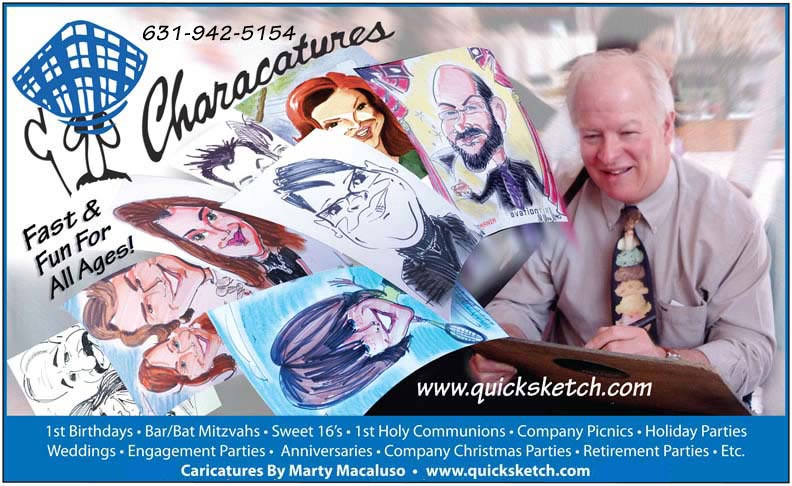 To my Caricature Home Page: www.quicksketch.com
More Photos and Quick Little Fun Stories at my Caricature Blog!
Yes, Caricatures Go Over Great At Weddings Too!