Smartphone Users Click Here
for the Mobile Friendly Version!

These Make Great Gifts For Retirements, Promotions, Anniversaries, Weddings, Birthday Party Invitations,
Sign-In Boards For Bar & Bat Mitzvahs, Sports Teams, Pre-printed T-shirts, Save the Date Cards, Etc.
Call
(631) 942-5154
for pricing or e-mail me
martyart@optonline.net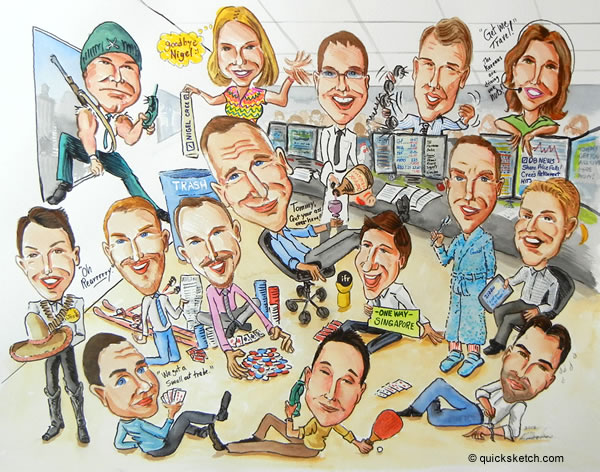 The above caricature was done for the guy in the middle as a retirement gift
from his staff, it incorporated lots of their little idiosyncracies.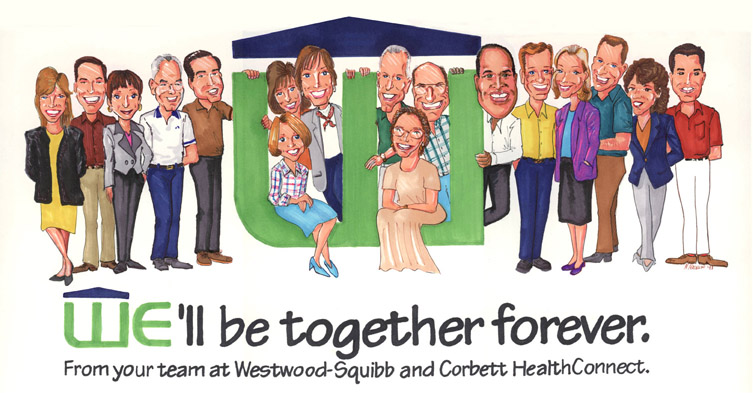 This type of picture (above) is great for when someone is leaving a company, just keep in mind the more people, the pricier it gets.
Things to keep in mind when picking photos.
It's best to work from photos that focus more on the persons head, full body shots with small heads aren't that useful,
since I make up the bodies. Smiling close-up full or three-quarter head shots are preferred. Try to get photos that are well lit,
outdoor shots are usually good. Make sure the photos are current & look like the person, sometimes I get three or four picture's
of the same person and they look like three or four different people. I like to do pencil roughs for approval, before going to finish.
All the below samples were "Custom", I do them in watercolor or marker & pastel. My caricatures are hand drawn, so there is an original
Pricing varies depending upon size, amount of people, lettering, etc. Sizes start at 11" x 14".
Call
(631) 942-5154
for pricing or e-mail me
martyart@optonline.net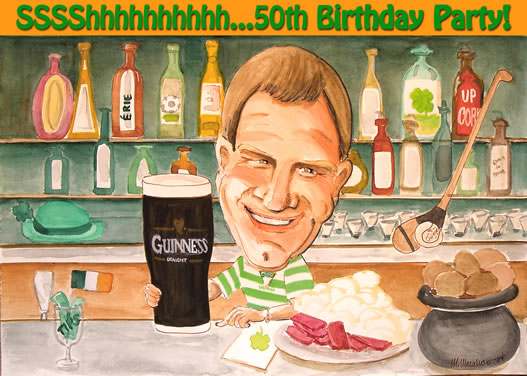 The above watercolor was used as an invitation - save the date card and the original was framed.
A little more info about my studio caricature pricing.
Doing caricatures from photos, "studio" caricatures, is very time consuming, they take hours. Unlike doing them
at a party where I can do about twelve people per hour, doing them from photos usually takes at least three hours
with one person in them. I like to do a pencil rough and e-mail it to you for approval before going to finished art.

A less expensive option is for caricatures done similar to what I would do at a party, they are pre-drawn and much
less complicated. (Example: make me playing football, a cheerleader, a mermaid, a cowboy, playing tennis, etc.)
These are much faster for me and much cheaper and there is always a some customization (like uniform colors
and jersey numbers, etc.), These are done with markers and pastels (see Marker & Pastel section below).
Call or e-mail me for pricing.

The link below has some group studio caricatures that my dad does, you can contact him about pricing,
he doesn't do them at parties. He also does murals and hand drawn architectural renderings, check his work out.
More caricatures from my dad's style, click here!
I also have a friend who will do a caricature drawing for free online :) click here!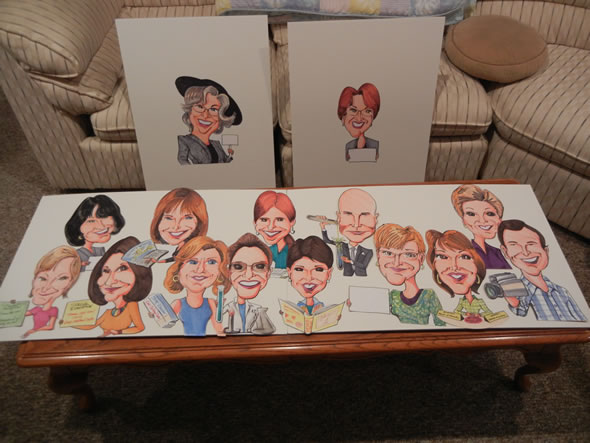 Above are a bunch of in progress caricatures of retiring teachers. Each one was mounted (sign-in boards)
on a board with their name and something about the schools they worked in or the jobs they did.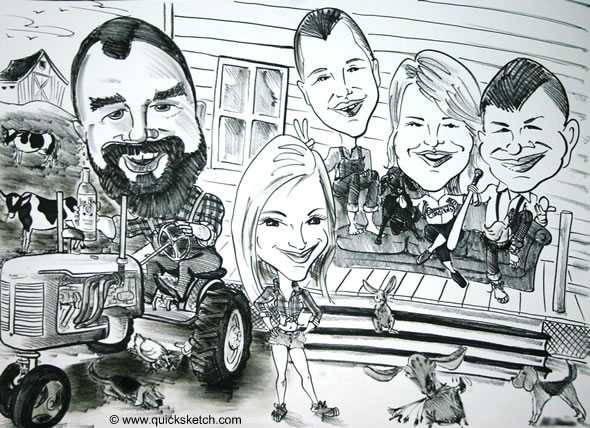 I want it all to be black and white…no color. We live on a farm with cows chickens ducks rabbits goats and dogs.
**** I am glad to have found you…this is awesome! ****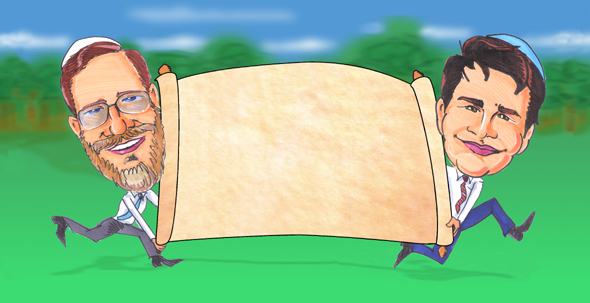 The above picture is a combination of markers and computer, it was sent as a hi-res jpg
to a guy from Isreal, he set the text into the scroll and used it as an invitation to his son's Bar Mitzvah.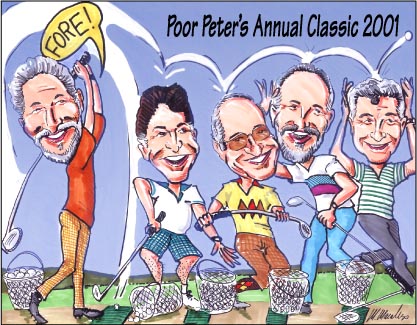 ---
Watercolor Caricatures
The next few pictures are a new style for me. They're done in watercolor, see the difference?
(I'm testing out doing watercolors live at parties, see my Caricature Talk webpage (April '04) for more on this.)
Most of these are gift caricatures, usually 11" x 14", or sign-in boards.
Pricing varies on these, but just to give you an idea of the time involved click here!
(There are plenty of cheaper artists out there when it comes to doing these from photos.)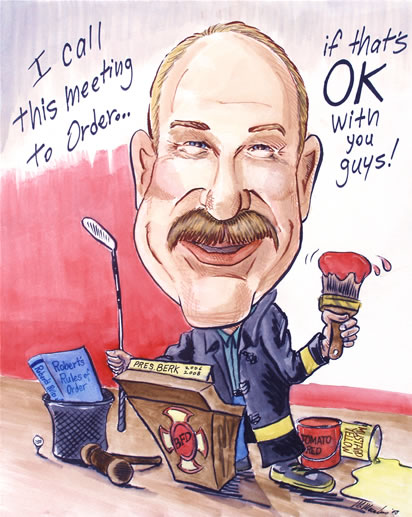 My style catches the persons head with just enough exaggeration and cartoon bodies.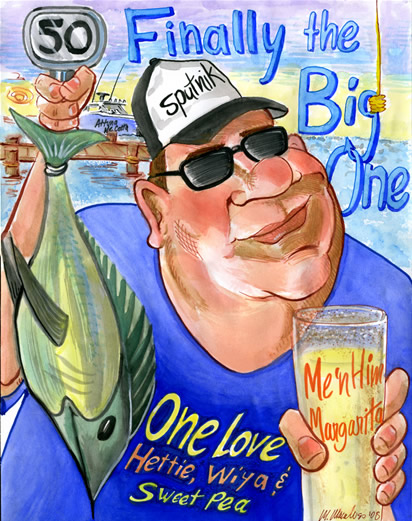 Become a cartoon, order one for yourself or surprise someone else with one!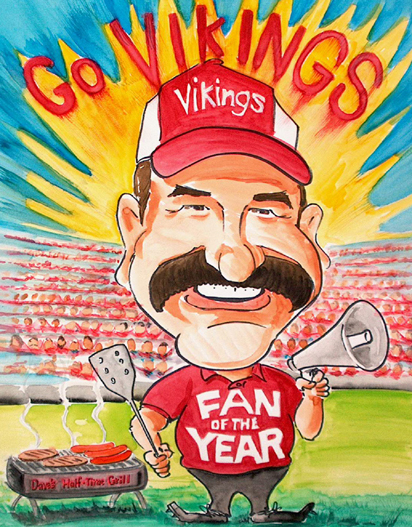 11" x 14" , from a football team to their coach.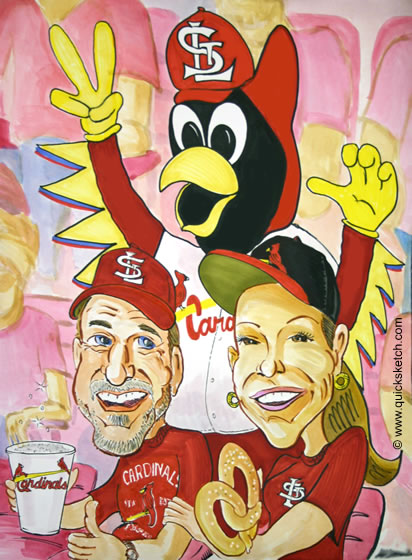 If I send you a pic of my parents, could you draw them a 16x22" and get it to me before Christmas??
My parents would be in Cardinals gear, as they are die hard fans of the St. Louis Cardinals.
Maybe have them sitting in stadium seats with Fred-Bird in the background somewhere.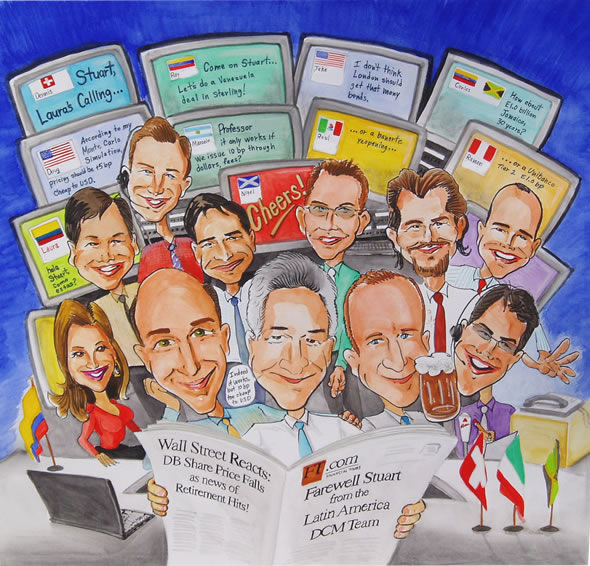 Here's another retirement gift, from the guys in his department.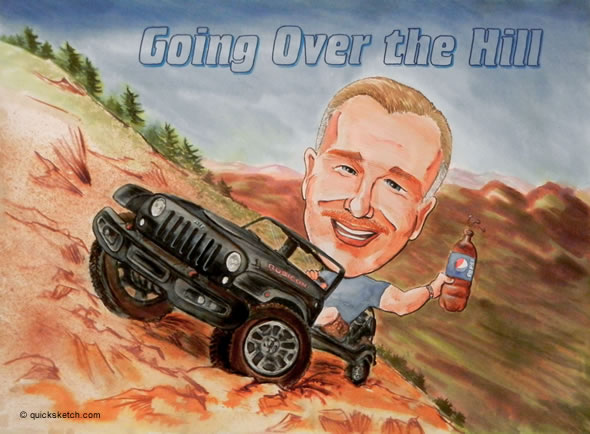 A 50th birthday gift from his wife, I've been doing lots of guys with their cars lately.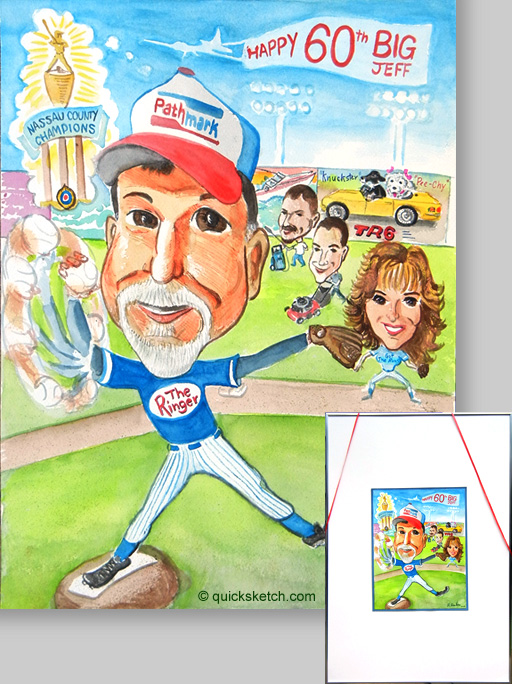 The inset photo shows the sign-in board matted and framed, the ribbons have markers attached.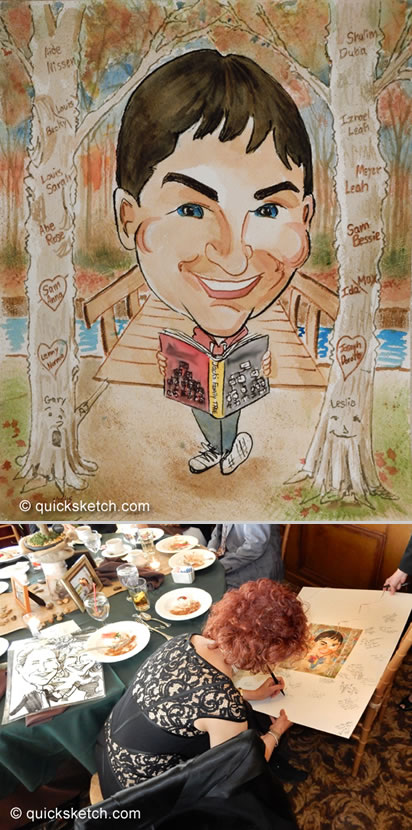 The above sign-in board was for a Bar Mitzvah that I also did live caricatures
at, note the one on the table. They passed the board around after dinner.
The kid was into genealogy.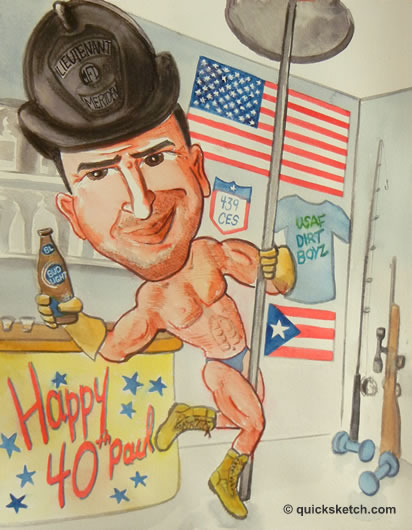 I get lots of women that like the "Tommy 40th" below and
want something similar to it for their husbands and boyfriends.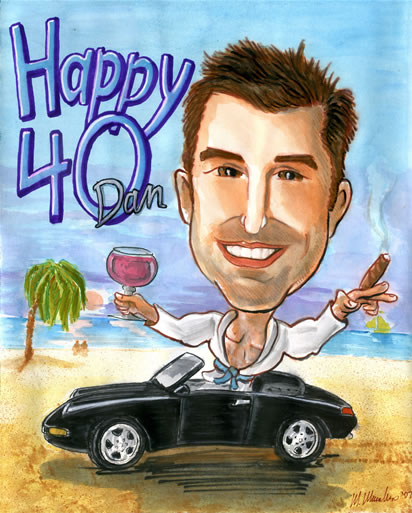 A 40th birthday gift from his wife.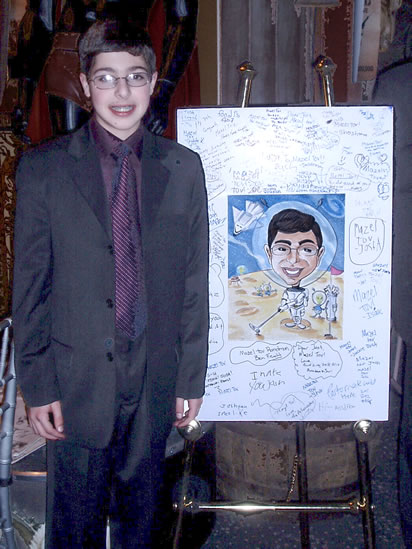 A 20" x 30" sign-in board, 11" x 14" picture. More Sign-in board samples in next section.
You can see a close up of this here.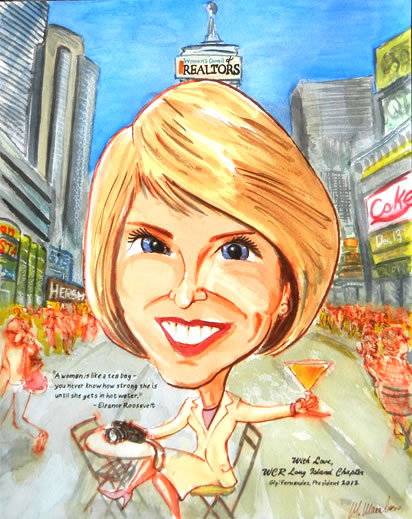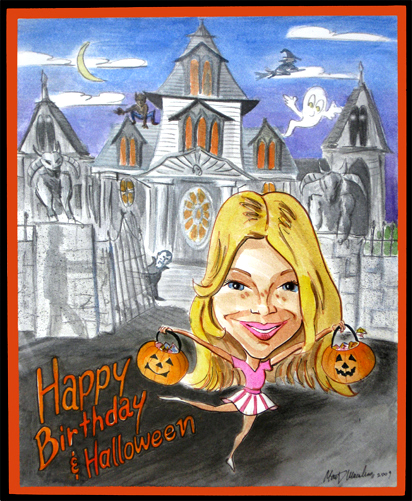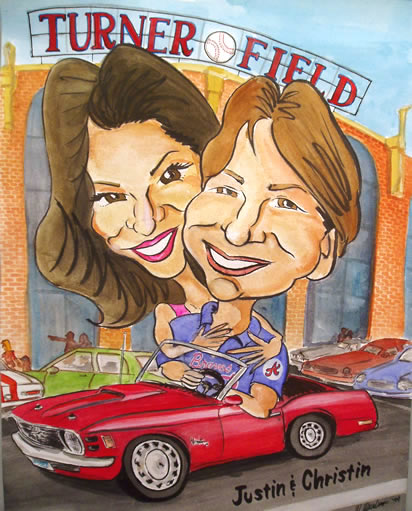 11" x 14" , from the wife to her husband.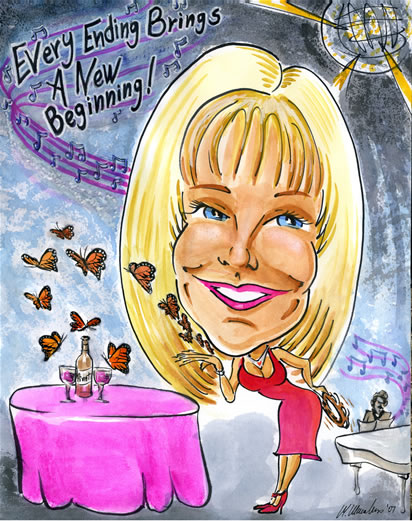 Detail of a sign-in board, if you want the story on this, click here.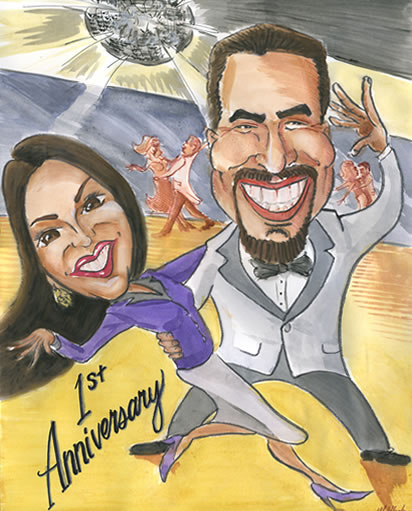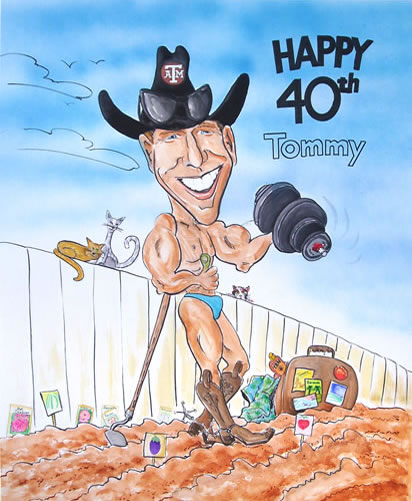 (He was also surprised with this at his Surprise 40th Birthday party.
This was a 24" x 30" poster which includes some of his favorite things.)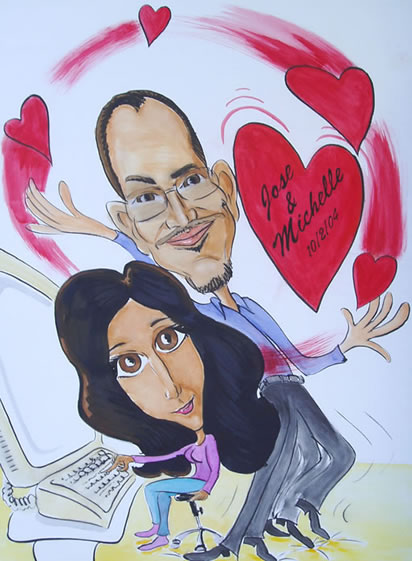 (This was a large poster, for their wedding. She wanted to be working at
her computer while he's distracting her with his juggling & tap dancing.)
"Awesome, awesome awesome! You captured us in an unbelievable way!
We couldn't be happier....it's beyond our expectations."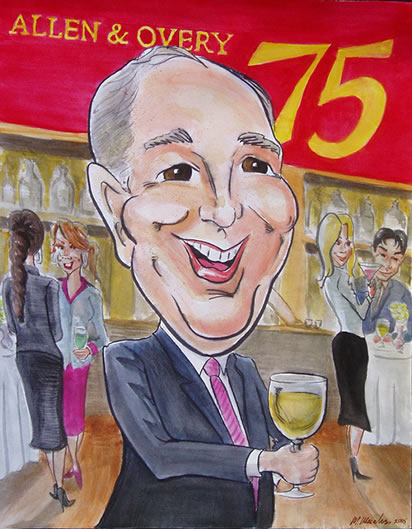 His company got this for him when he was retiring.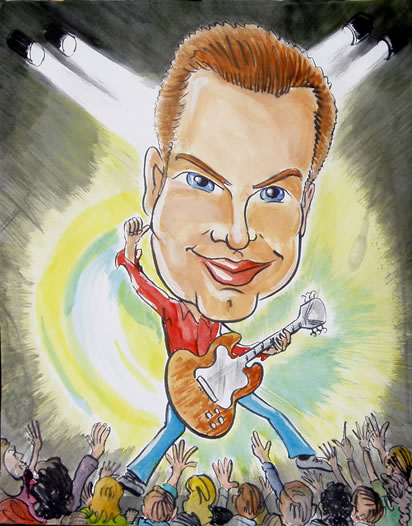 This was scaned, used for an invitation, then mounted and used as
a sign-in board at his 40th surprise birthday party.
To see some of the other stuff they made from this art click here.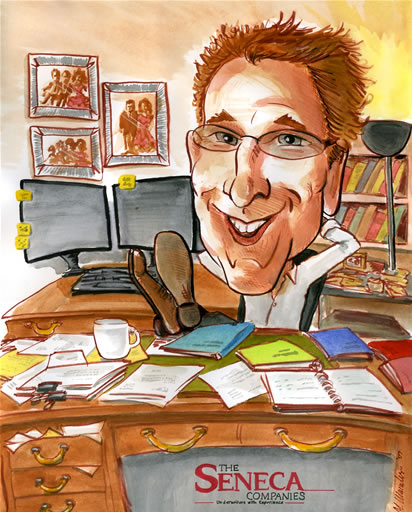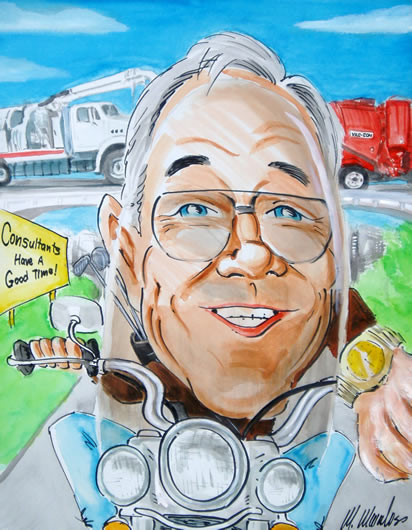 This was of a retiring truck salesman.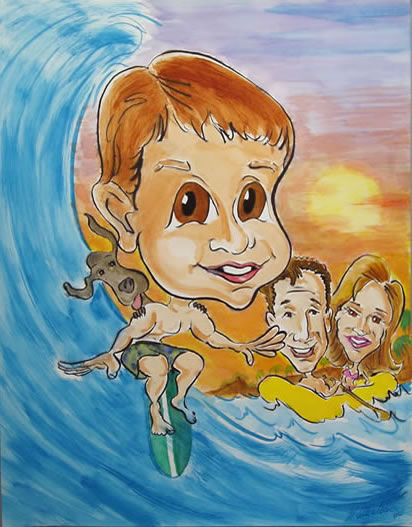 pi

These were each 20" x 30" sign-in boards (They had more white space around them than shown, for people to write things.)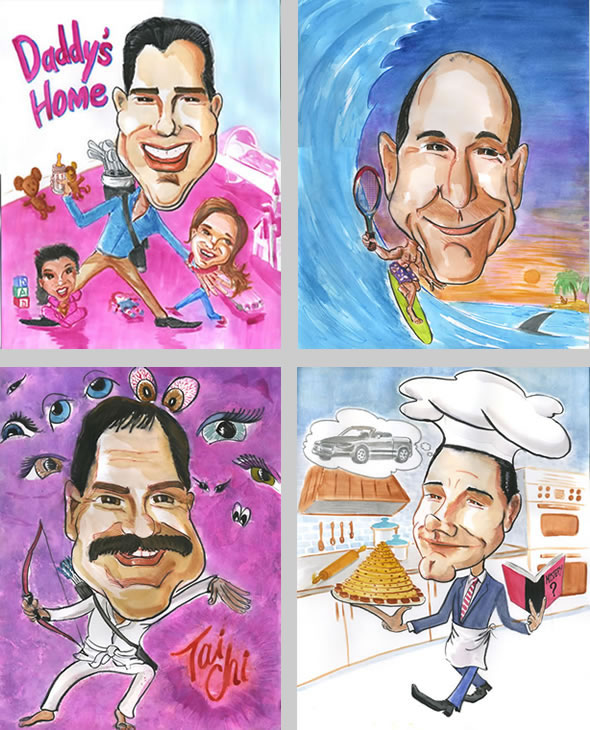 Here's a Christmas gift to 4 eye doctors, a Christmas present from their office.
---
Call
(631) 942-5154
for pricing or e-mail me
martyart@optonline.net
To My Caricature Home Page: www.quicksketch.com
See more samples and learn more about my work at Caricature Talk, my Blog.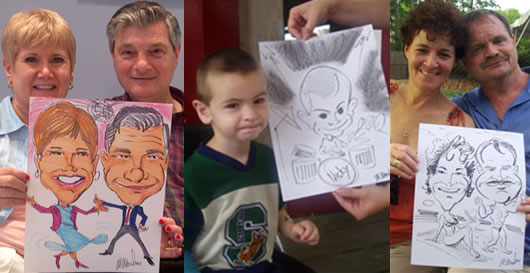 Above are some of my color and black & white party caricature pictures.
---
Marker & Pastel Studio Caricatures
These are all custom except for the "Knight & Princess"
which is a pre-drawn that I take to parties.
The couple dancing and the couple on the beach (above) are also pre-drawns.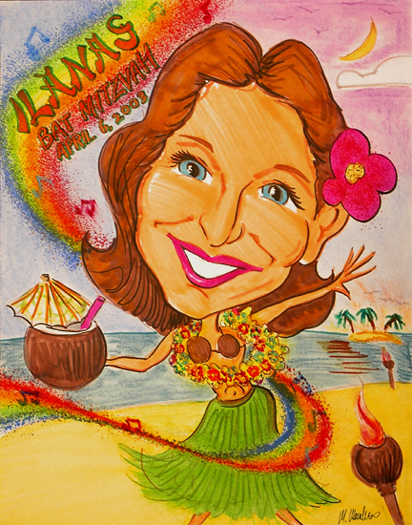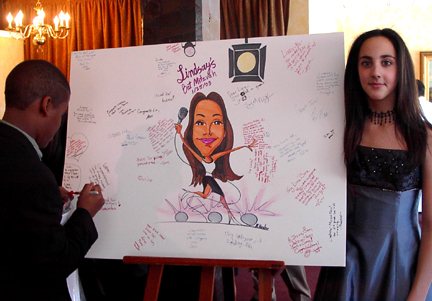 A 40" x 30" sign-in board.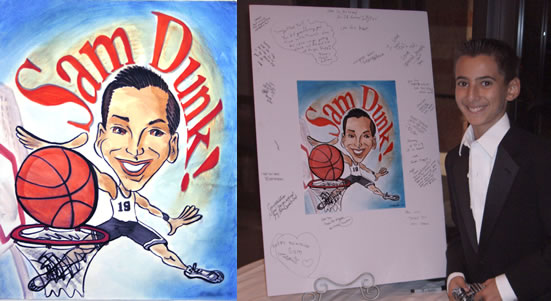 An 11" x 14' picture mounted on a 20 " x 30" sign-in board.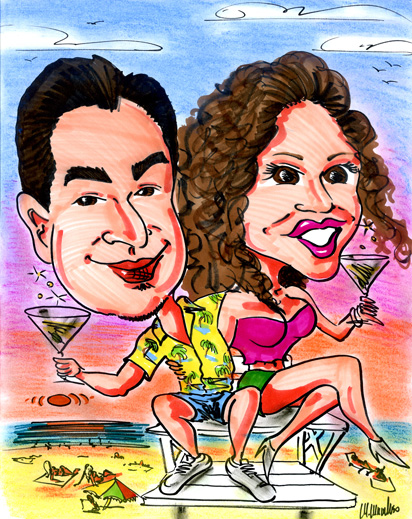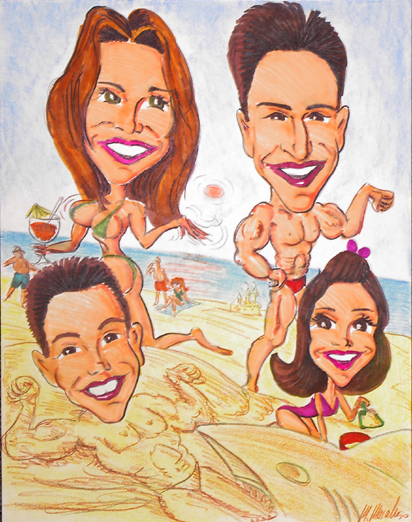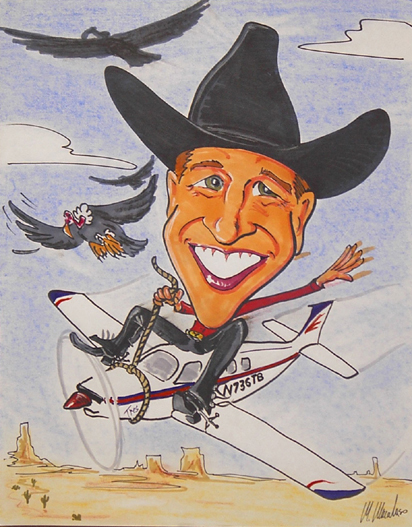 The one above was given as a gift from a company to their client.

"WOW... Marty, he was floored. Thanks so much again for the caricature.
I don't think that anyone could have done that but you.

Once I got the picture, I took it to a local frame shop and had it custom
matted and framed. They put a beautiful blue color mat that really
accented the picture and cherry wood (his favorite) frame on it.
It just looked so amazing when it was all put together.

OH... I wish that you could have seen the look on his face
when he saw it. Absolutely SPEECHLESS... He didn't know what to say,
he laughed, he wowed, he took in every detail!!! And, of course, I glued
your card on the back of the frame so that everyone would know who to call. :)

I just wanted you to know how pleased I was and how special the gift was.
This man is a truly unique and special person...the kind of man
who has EVERYTHING...that no one can buy for.
This was exceptional - a one of a kind - something that he will
always remember me for...and you truly made it possible.

I am sure that we will talk again in the future. Take care."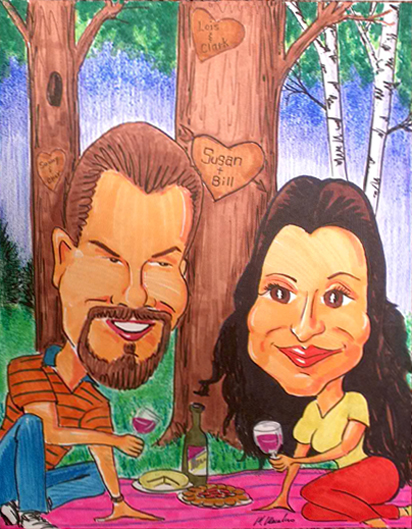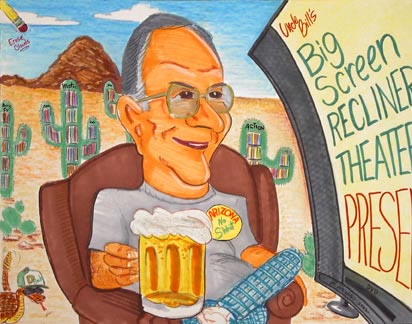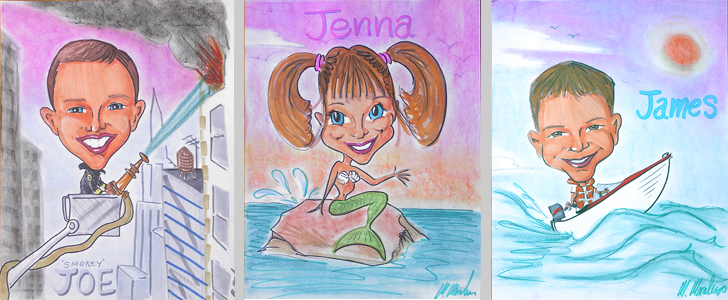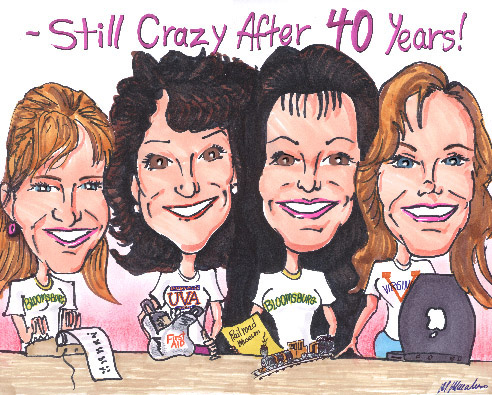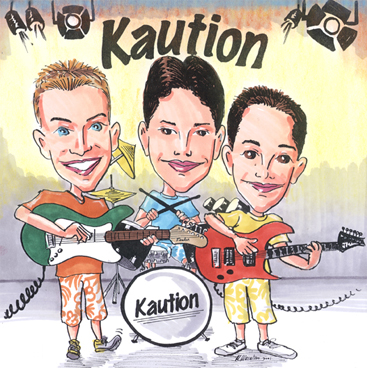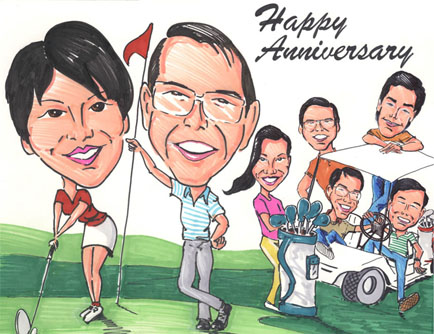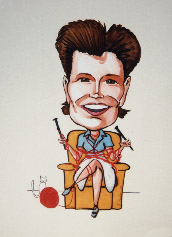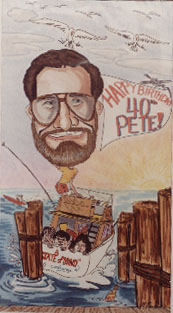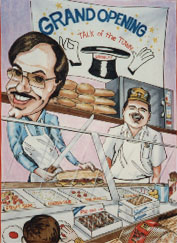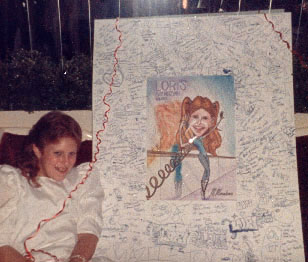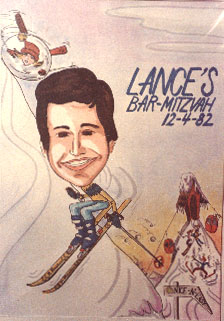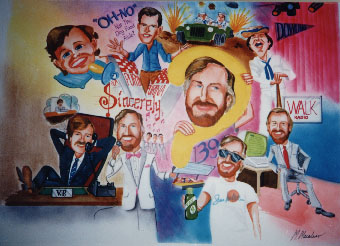 This kind of picture gets pricey too.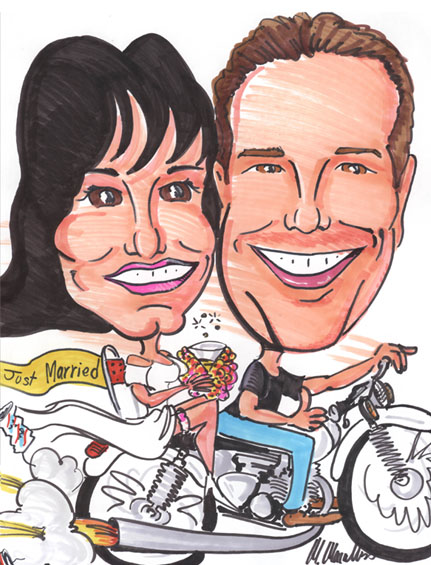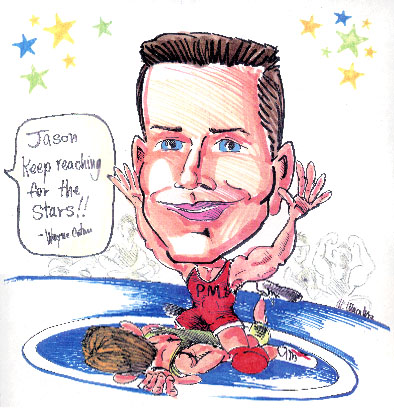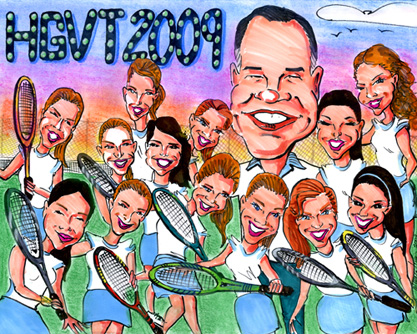 My daughter surprised me with this one, they presented it to their coach during
the awards dinner, only she told me about it a day or two ahead of time, from one group shot.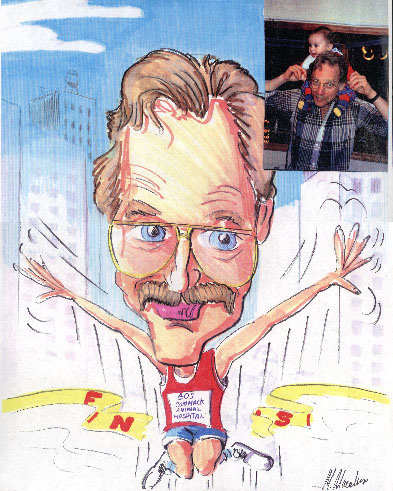 To My Caricature Home Page: www.quicksketch.com

See more samples and learn more about my work at Caricature Talk!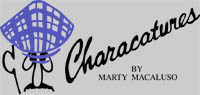 Call (631) 942-5154