NEW JERSEY - NEW YORK CITY - LONG ISLAND NASSAU SUFFOLK BROOKLYN QUEENS - CARICATURE ARTIST
Small Parties or Large • Corporate or Residential • Client and Staff Appreciation Day & Team Building Events • Caricaturist For Hire
*** If Your Planning a Bar Mitzvah or Bat Mitzvah, hire a Caricature Artist, Click Here! ***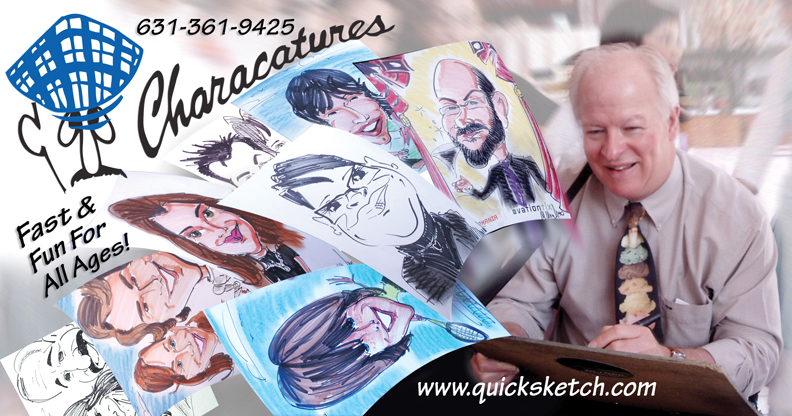 Caricatures are a very reasonably priced form of party entertainment!
Marty Macaluso flattering caricatures that look like the people, not too cartoony (unless I get the right
type of person sitting there) most of my exaggeration is in the bodies. Fast & fun party favors for kids
and adults, corporate and private parties. Click the text links or large photos below for more info.
Call (631) 942-5154
martyart@optonline.net
Party Caricature Artist Serving Brooklyn, Queens, Long Island, NYC, Metro New York / New Jersey / Connecticut
30th & 40th Surprise Parties, Bar Mitzvahs / Bat Mitzvahs, Sweet 16's, Communions, Company Picnics, Company Christmas Parties




Party
Caricatures

Fast & fun for children's, teens and adult parties. Color or black & white. I take a large selection of pre-drawn backgrounds with me or do them from scratch. Great party ideas for all ages, from christenings and Bar Mitzvahs to retirements.

To My Caricature Blog



Caricatures
From Photos

These are done in Watercolor,
they make great gifts, invitations and sign-in boards. These are also unique party ideas and can be done for anyone anywhere in the world. Unlike the party cartoons, these are done ahead of time, I need a few weeks notice.

Wedding
Caricatures

Once your guests realize I'm there, I'm swamped for the rest of the affair. Caricatures go over great at wedding receptions, my style is very complimentary. These are also great party favors for engagement parties and rehearsal dinners. From small backyard weddings to the most lavish weddings.
If Your Planning a Bar Mitzvah or Bat Mitzvah have a Caricaturist for hire, Click Here!
Caricature entertainment a favorite for small or large parties, children, teens and adults. Having a quick sketch
artist at your party is one of the great entertaining party ideas, even having a single pre-drawn caricature
picture for a sign-in board or gift is something unique to give someone special. I have a network of other
professional caricature artists I work with for those large parties that require multiple artists. Caricature yourself!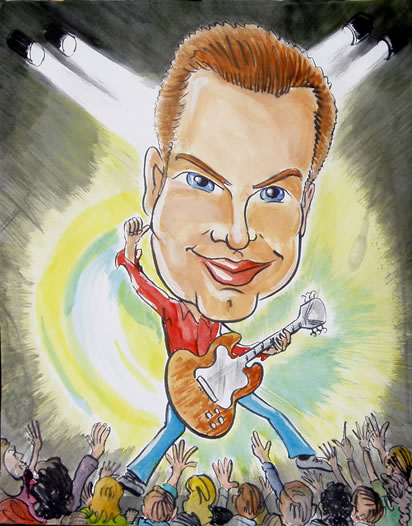 Party Supplies created from caricatures.
Invitations, Save The Date Cards, Sign-in Boards, Guest Book, Masks, Booklets, T-shirts, etc. See photo below, these were all done from photos supplied by the guys wife for his Surprise 40th Birthday Party. Once the original caricature was finished for the sign-in board, it was used for all the other party items. I also did live caricatures during this party in NJ.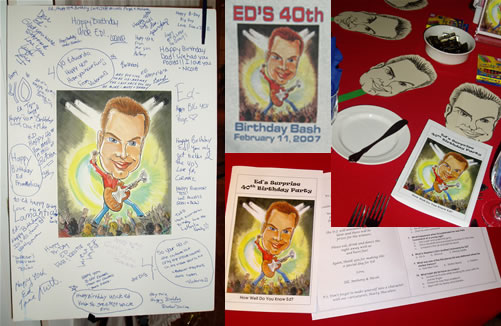 New York, New Jersey, Connecticut, Long Island, Nassau Suffolk Queens Brooklyn Bronx live party caricatures and party supplies.
Party Caricature Artist Serving Long Island, Nassau, Suffolk, Queens - Metro New York / New Jersey / Connecticut
Trade Shows, Corporate Team Building Events, Company Picnics, Office Christmas, Holiday Parties +Caricature Artist
Call (631) 942-5154
martyart@optonline.net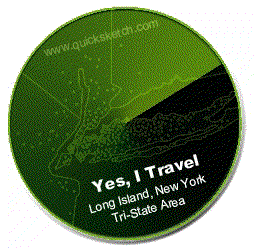 This is my basic caricature directory, you can go to my home page to see other graphic services that I offer.