Online Caricature Artist for Hire
Long Island, New York, New Jersey, Connecticut, Westchester

Call (631) 942-5154
- Licensed & Insured -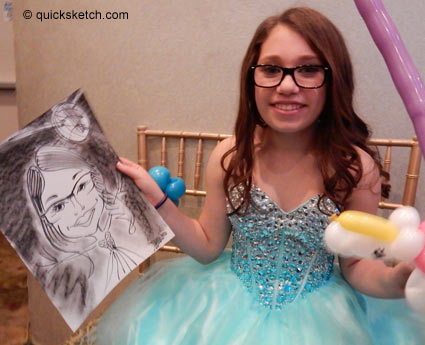 Bar and Bat Mitzvah Party Caricature Favors. Fast and Fun for All Ages.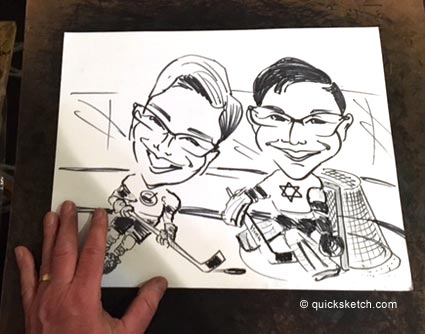 These are from a recent Bar Mitzvah, the one above is a pre-drawn background. Note the color one below, that's the Bar Mitzvah boy and his family.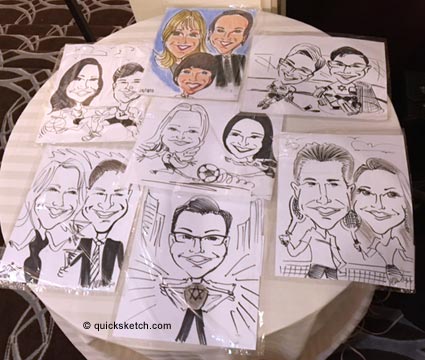 Also Fun Wedding and Sheva Brachot Celebration Entertainment!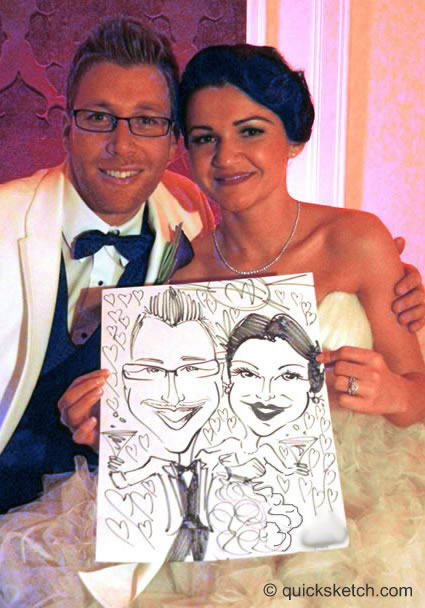 I've been doing party caricatures in the New York area since 1978. I take a large selection of pre-drawn bodies/backgrounds to parties and also draw them upon request. Feel free to peruse my blog "Caricature Talk" for lots of photos and short stories snce 2001.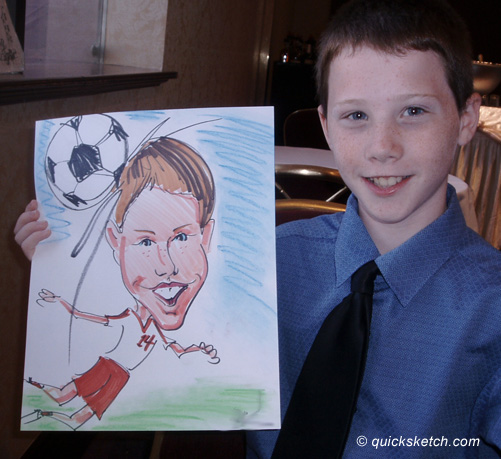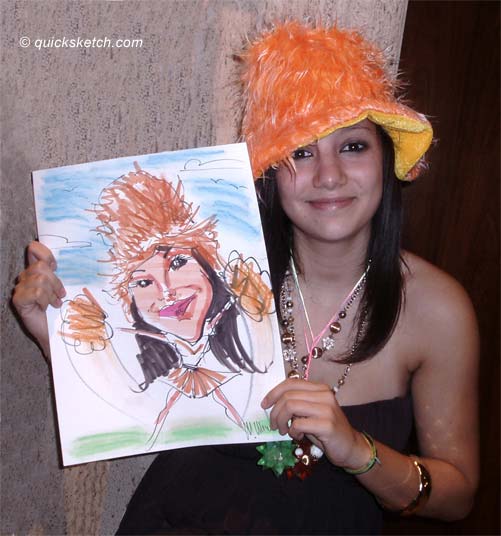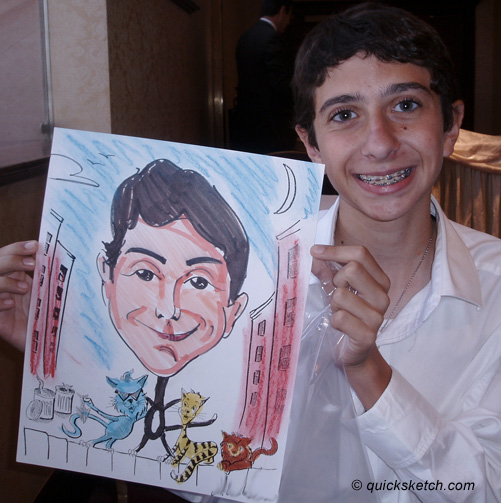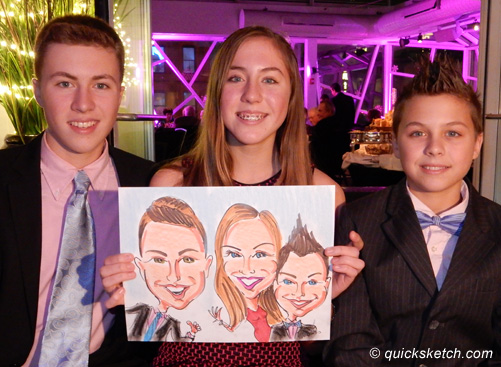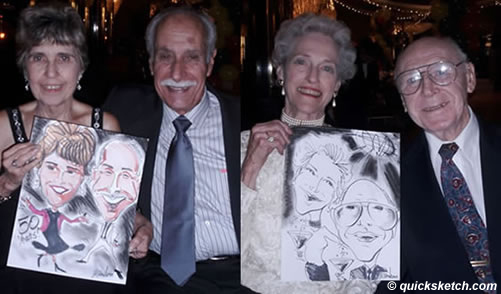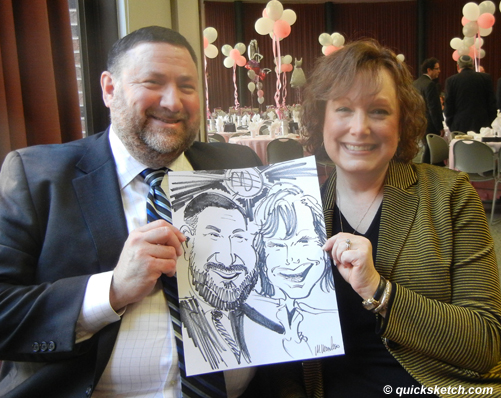 Usually the adults can't wait until the kids are done.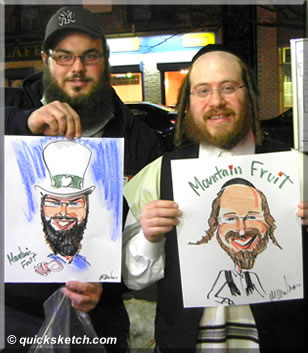 These caricatures were drawn during a Grand Opening of a Purim Store in the Flatbush area of Brooklyn. Here's a quote from another Purim party I did caricatures at:
"We hired Marty to come to our Purim gathering and draw all the kids. He was extremely pleasant and easy to deal with. He was professional but very mild mannered. The kids loved their caricatures and so did the parents. I would definitely recommend him and look forward to using him at other large family gatherings. A great fun experience was had by all!" - Penina O. 3/16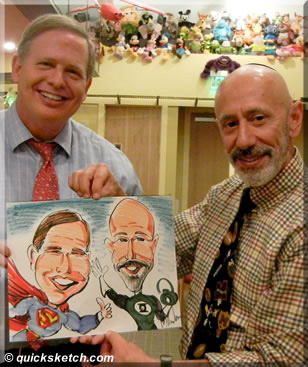 After drawing kids all afternoon, I got to do caricatures of the doctors during the grand opening of Five Towns Pediatrics in Woodmere.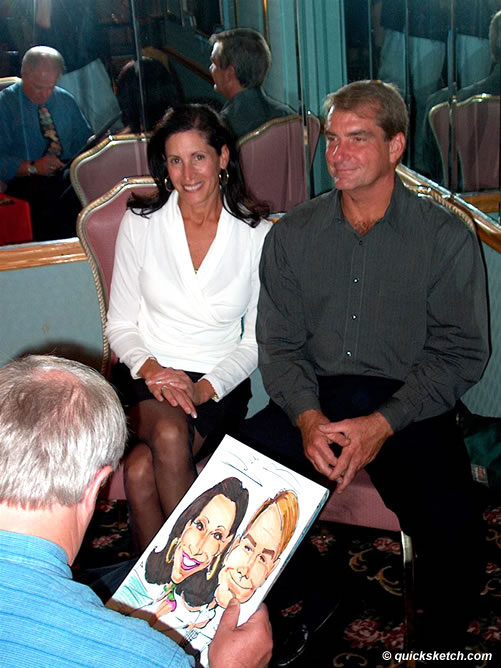 Call For Pricing & Availability!
(631) 942-5154
or e-mail: martyart@optonline.net
Below are some sign-in boards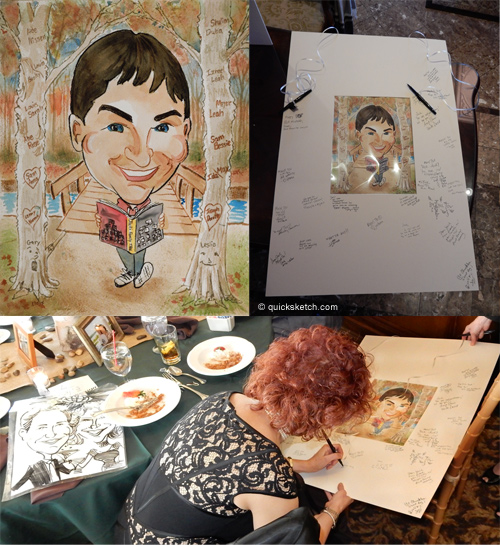 The photo above is from a recent Bar Mitzvah. I also did live caricatures, note the picture of I did of her and her husband on the table.The picture in the upper right corner shows how this sign-in board was made. The matte board (where people sign) has the middle cut-out (11" x 14") and clear plastic is between the picture and the matte board to protect the caricature. This party was a family party, the next day they were having a friends/kids party and were afraid that someone would put a moustache or something on the picture, so this protects it. If someone did draw a moustache on the picture then the plastic could be cut out before it was framed afterwards. The matte size was about 24" x 36", which is a standard size so they would be easily able to get a frame without custom framing.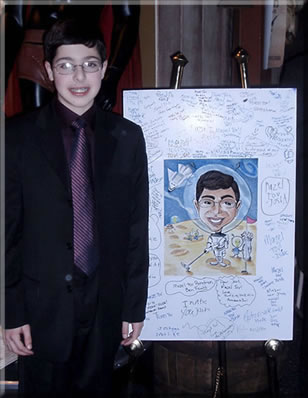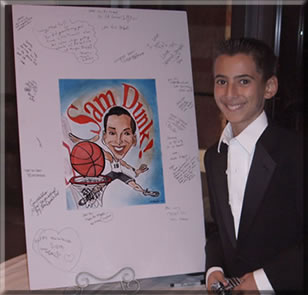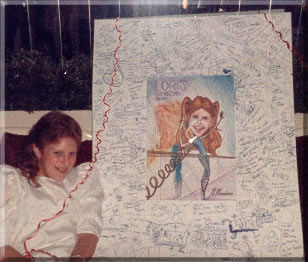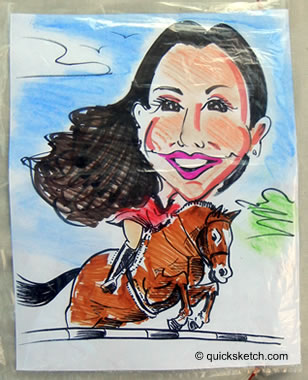 I take lots of pre-darawn backgrounds to parties with me or make them up on the spot from requests, above is a pre-drawn background from a Bat Mitzvah. I also give them out with clear plastic bags for their protection.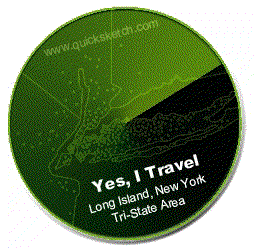 Fast and Fun Caricature Entertainment ideas for Bar Mitzvah, Bat Mitzvah, Purum, Weddings and Sheva Brachot Celebrations near Long Island / Brooklyn / Queens / Bronx / Staten Island / NYC / NJ / CT
To My Caricature Home Page: www.quicksketch.com

See more samples and learn more about
my work at my Blog - Caricature Talk!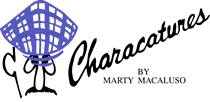 Call For Pricing & Availability!
(631) 942-5154
or e-mail: martyart@optonline.net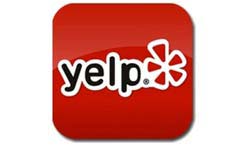 Click the above Yelp Logo to see my reviews,
Here's one:
"We hired Marty to do Caricatures for a family Hanukkah Reunion. it was great entertainment for the kids as well for the adults. Marty was very pleasant and very artistic!! Extremely patient and calm. We highly recommend him for your event!!! We had a great time!!! Thank you Marty!"
Jack B. - Brooklyn - 12/21/14
Call For Pricing & Availability!
(631) 942-5154
or e-mail: martyart@optonline.net